The French Kitchen: Green Forest Afternoon Tea Featuring Matcha, Pistachio and Sustainable Seafood
The French Kitchen offers an unforgettable afternoon tea experience with an elegant assortment plate and lavish dessert that highlights a different theme each season.

Green Forest Afternoon Tea(4/16 – 6/30)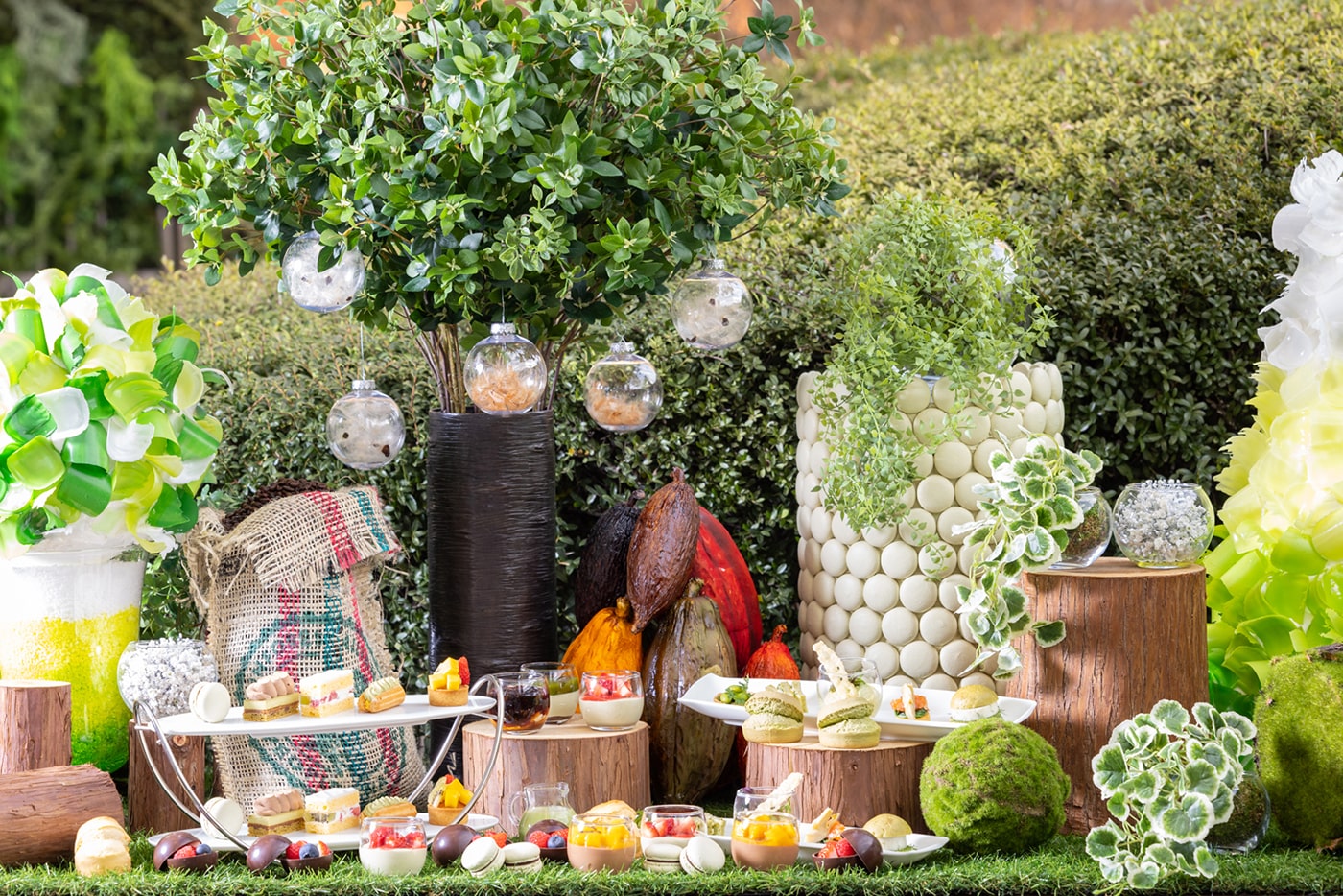 From April, the chefs at The French Kitchen will craft a Green Forest Afternoon Tea with desserts such as shortcake and tarts made with high-quality yet "irregular" shaped fruits as well as made using whole fruit chocolate. The whole fruit chocolate offers a fresh fruity taste and, is made with 40% less sugar and 100% pure cacao fruit, 70% of which is normally discarded as waste. A selection of matcha and pistachio-flavored desserts will be offered along with savory bites incorporating sustainable seafood, and a portion of the proceeds will be donated to the "Green Fund," a local NPO dedicated to rebuilding and revitalizing forests.
*Please note that photos are an image and the desserts will be served at the table on individual stands.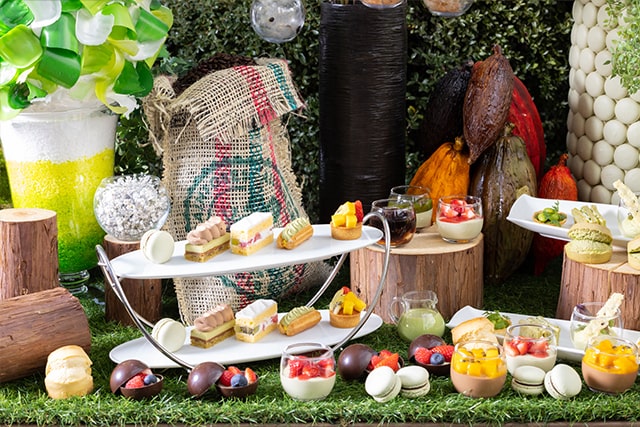 ■ Period
April 16 – June 30, 2022
3:00 p.m. – 5:00 p.m. (last order 4:00 p.m.)
*Seating is limited to 120 minutes (weekdays) / 90 minutes (weekends and holidays)
■ Price (Inc. tax / exc. service charge)
JPY 5,720 (weekdays)
JPY 6,820 with a glass of Champagne (weekends and holidays)
■ Menu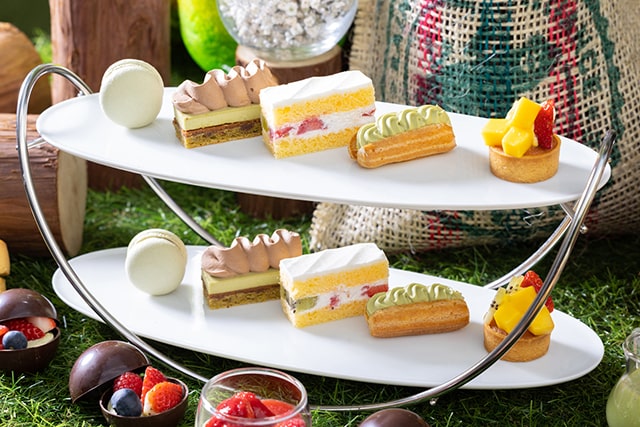 Sweets
Short cake *1
Fruit tart *1
Pistachio macaron
Pistachio cake
Matcha éclair
Surprise ball (matcha sauce, matcha ice cream, berries)
(Matcha sauce poured on top of a white chocolate ball filled with vanilla ice cream and berries.)
Glass Desserts
Chocolate mousse *2
Coffee jelly *3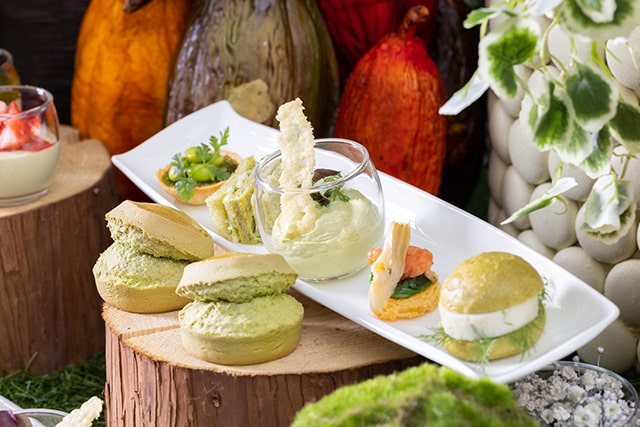 Savory
Sustainable smoked salmon crostini brioche *4
Matcha buns and sustainable scallop mousse *4
Egg sandwich, spinach bread
Avocado mousse
Spinach and green bean quiche
Scone
Matcha scone
Plain scone (whipped cream, jam)
Tea
Choice of one premium organic tea from Los Angeles-based "ART OF TEA"
Coffee
In addition to the above premium teas, enjoy unlimited servings of hot or iced coffee such as Espresso, American Coffee, Cafe au lait, Latte and Cappuccino
*Please note that the menu is subject to change.
Contribution to the SDGs
*1 Made with irregular fruits
*2 Made with Wholefruit chocolate
*3 Made with Rainforest alliance-certified coffee
*4 Made with responsibly farmed sustainable seafood
About the Green Fund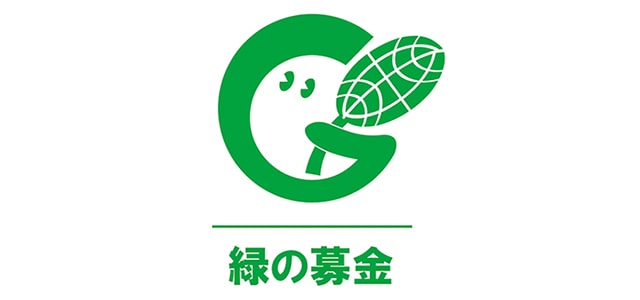 Since 1950, the Green Fund has been promoting the "Green Feather Fundraising" movement, but in 1995, the "Green Donation Law" was enacted, and forest development by volunteers through "green fundraising" was promoted, not only in Japan but also on a global scale. They receive donations from companies, communities, schools and workplaces, and are engaged in various initiatives, including forest development and human resource development in Japan and overseas through volunteers and NPOs.
Official Website (Japanese): www.green.or.jp/bokin/
About Rainforest Alliance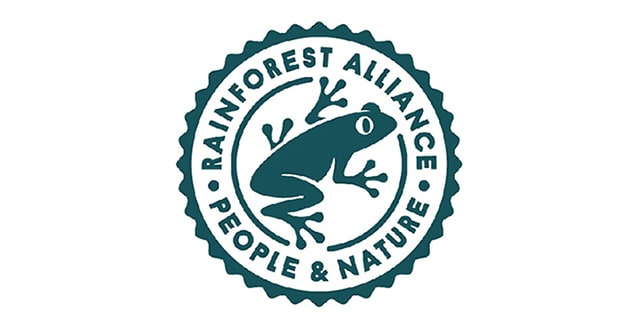 The Rainforest Alliance is an international non-profit organization working at the intersection of business, agriculture, and forests to make responsible business the new normal. They are building an alliance to protect forests, improve the livelihoods of farmers and forest communities, promote their human rights, and help them mitigate and adapt to the climate crisis.
Website: https://www.rainforest-alliance.org/about/
The French Kitchen All-Day Dining
Phone

Website

Hours

Breakfast

6:30 a.m. - 10:30 a.m.

Lunch

11:30 a.m. - 2:30 p.m.
(weekends and national holidays 11:30 a.m. - 3:00 p.m.)

Afternoon

2:30 p.m. - 5:00 p.m.
(weekends and national holidays 3:00 p.m. - 5:00 p.m.)

Dinner

6:00 p.m. - 9:30 p.m.

Bar

11:00 a.m. - 9:30 p.m.

*Hours of operation have changed. Please click here for more info