Fit for Royalty – Marie-Antoinette Summer Afternoon Tea Featuring Fresh Mangoes and Peaches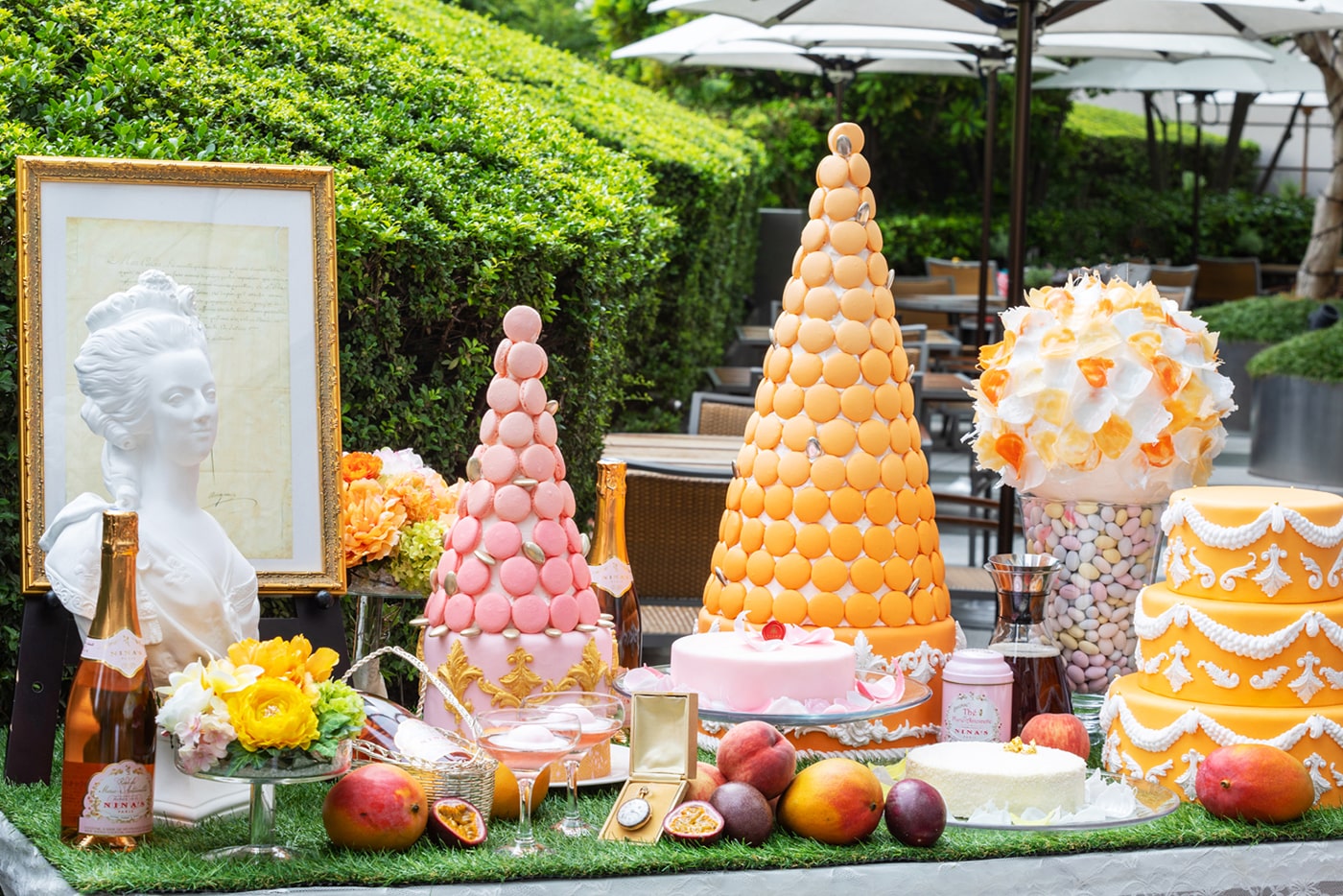 From July, enjoy a summer version of The French Kitchen's popular Marie Antoinette-themed afternoon tea featuring sumptous summer fruits and a special photo spot, exhibiting valuable items such as Marie Antoinette's original pocket watch and a handwritten letter that has been unveiled for the first time in Japan.
In addition to a selection of desserts featuring seasonal peaches and mangoes, exclusively during summer, savor the "NINASETTE BLANC -Neige d'été à Versailles-", a white coconut cake with royal passion fruit essence and white chocolate.
Special chilled desserts such as the new "NINA'S MARIE-ANTOINETTE Sparkling Rose Sorbet" made with the roses of Versailles, will be brought to the table on a serving cart, and diner's will be able to enjoy their meal with a pot of tea from the new "Royal Series" of NINA'S MARIE-ANTOINETTE teas that is being offered for the first time ever in Japan.
■ Period
July 1 – September 20, 2021
3:00 p.m. – 5:00 p.m. (4:00 p.m. last order)
*Seating is limited to 90 minutes
■ Menu / Price (Inc. tax / exc. service charge)
Marie Antoinette – Secret Summer Fruit Garden Afternoon Tea
JPY 5,280 (Weekdays)
JPY 6,380 (Weekends & National Holidays)

[Special offer only for reservations in July]
Weekdays only: JPY 5,280 → JPY 4,730(10% off)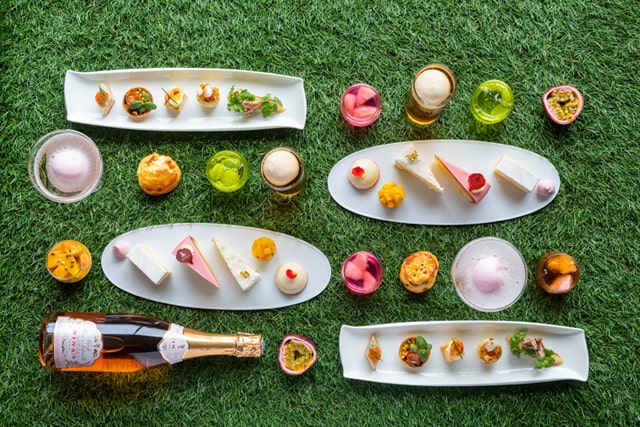 【Menu】
NINA'S MARIE ANTOINETTE original recipe cakes
NINA's original Marie Antoinette cake
NINASETTE BLANC -Neige d'été à Versailles-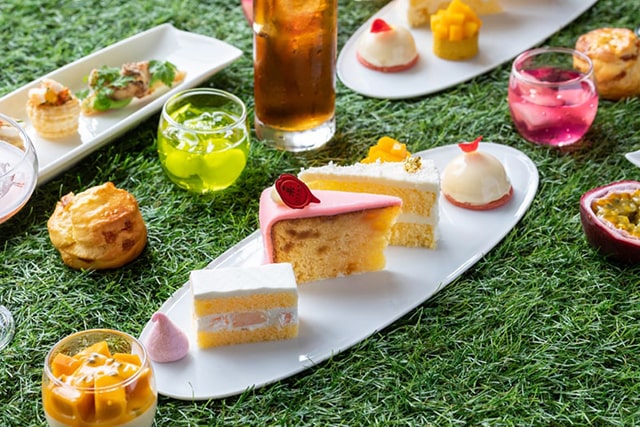 Sweets
Mango tartlet
Peach shortcake
Tea and peach mousse
Mango and peach guimove
Glass Desserts
*Please note that two types of glass desserts will be randomly selected per person from the options below.
Mango pudding, passion fruit
Peach and rose jelly
Peach and NINAS tea jelly
Shine muscat jelly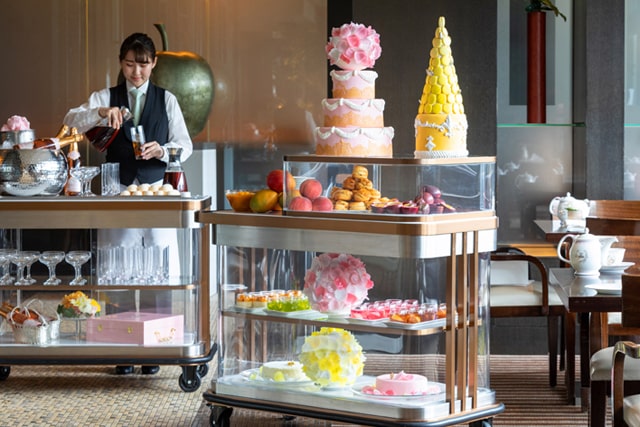 Savory
Mille crepe, salmon mousse
Ratatouille tartlet
Egg salad on toast, avocado
Artichoke and green peas, toasted baguette
Shrimp vol au vent, mango salsa
Scones
Mango Scones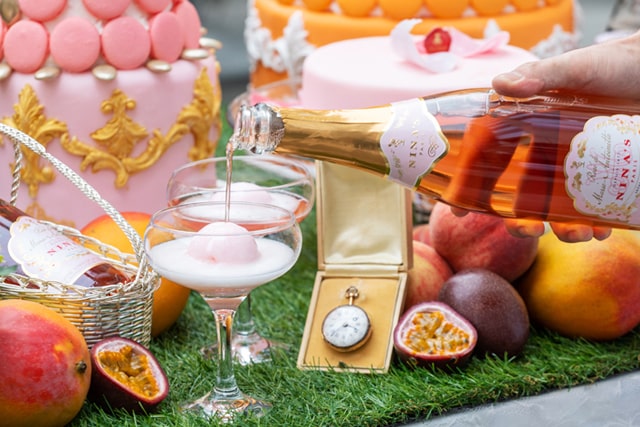 Special Dessert
*Please choose one dessert from the following:

Iced Tea Float (Non-Alcoholic)

OR
NINA'S MARIE-ANTOINETTE Sparkling Rose Sorbet (Alcoholic)
*Please note that this dessert will be temporarily served with non-alcoholic rosé instead of regular rosé from July 12, 2021.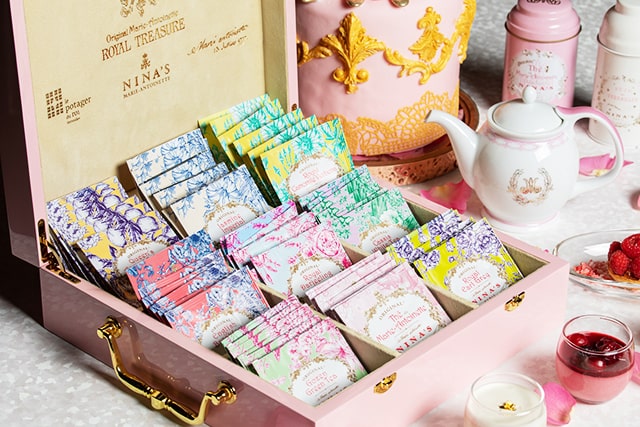 Tea
Choice of one premium tea from NINA'S MARIE-ANTOINETTE new "Royal Series"
Original Marie-Antoinette Tea
Cassis White Tea
English Breakfast
Gozen Green Tea
Jasmine Imperial
Queen's Apricot Oolong
Royal Camomille Verbena
Royal Darjeeling
Royal Earl Grey
Coffee
In addition to the above premium teas, enjoy unlimited servings of hot or iced coffee such as Espresso, American Coffee, Cafe au lait, Latte and Cappuccino.

*Please note that the menu may change.
*A 100% cancellation fee will be charged for same-day cancellations and changes in the number of people in your party.
The French Kitchen All-Day Dining
Phone

Website

Hours

Breakfast

6:30 a.m. - 10:30 a.m.

Lunch

11:30 a.m. - 2:30 p.m.
(weekends and national holidays 11:30 a.m. - 3:00 p.m.)

Afternoon

2:30 p.m. - 5:00 p.m.
(weekends and national holidays 3:00 p.m. - 5:00 p.m.)

Dinner

6:00 p.m. - 9:30 p.m.

Bar

11:00 a.m. - 9:30 p.m.

*Hours of operation have changed. Please click here for more info