Fit for Royalty – Marie Antoinette Afternoon Tea at The French Kitchen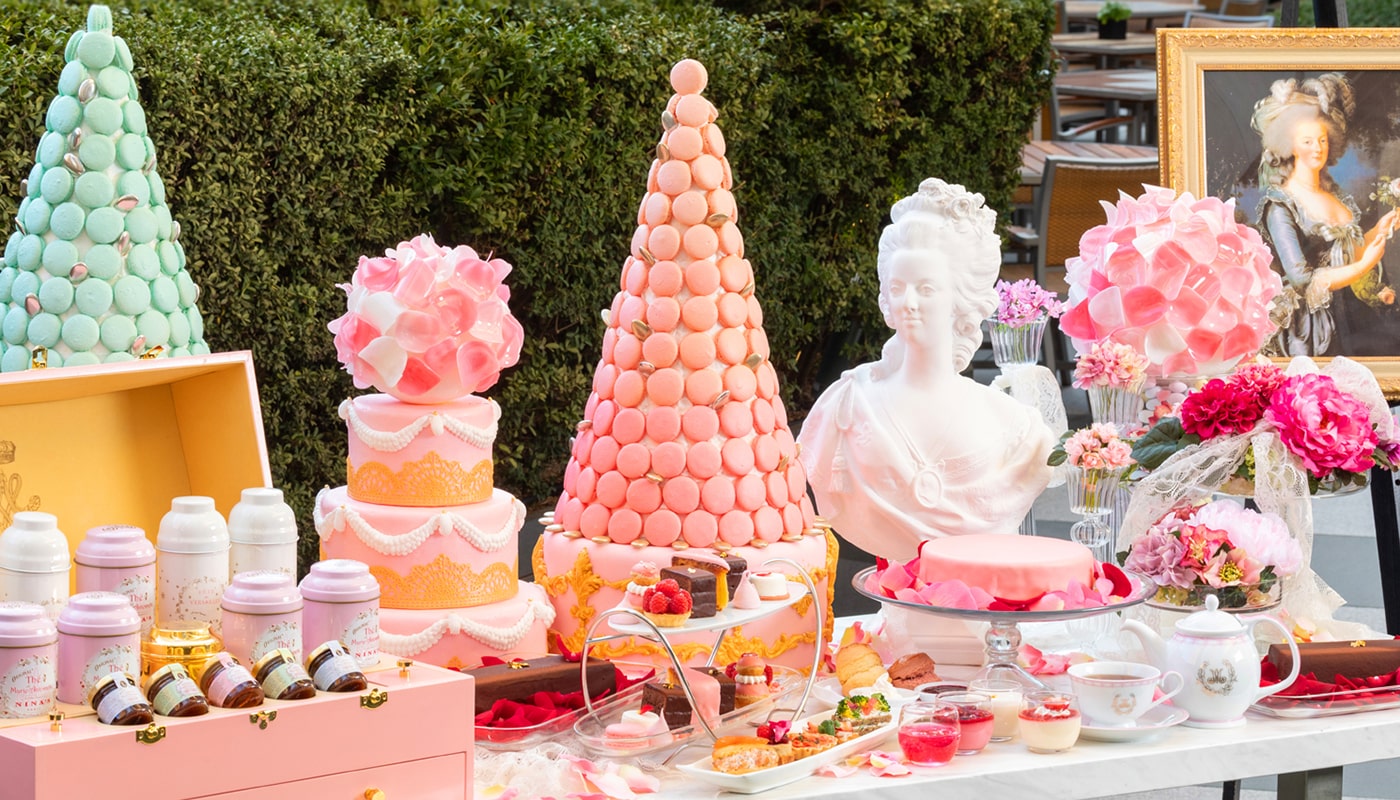 From April, The French Kitchen will host a new Marie Antoinette-themed afternoon tea with a special photo spot exhibiting valuable items such as Marie Antoinette's original pocket watch and a handwritten letter that will be unveiled for the first time in Japan. In addition to a selection of sweet and savory items, two secret recipes were made available to The French Kitchen so the restaurant could recreate a special pink apple pound cake and a chocolate cake made with the essence of rare apples and roses from the King's Kitchen Garden at the Palace of Versailles.
Glass desserts and freshly baked scones will be brought to the table on a serving cart, and diner's will be able to enjoy their meal with a pot of tea from the new "Royal Series" of NINA'S MARIE-ANTOINETTE teas that will be offered for the first time ever in Japan.
*Please note that photos are an image and the desserts will be served at the table on individual stands.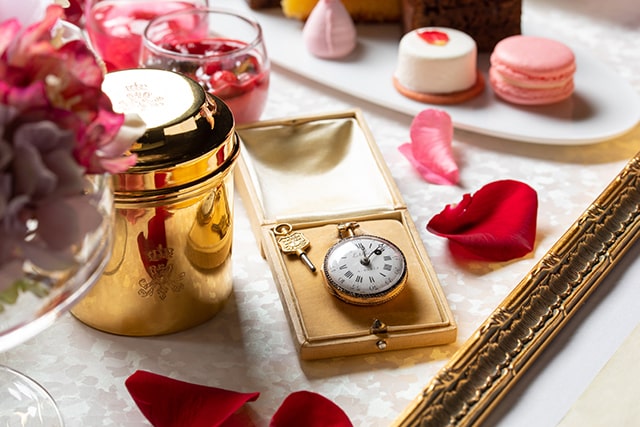 ■ Period
April 1 – June 30, 2021
3:00 p.m. – 5:00 p.m. (4:00 p.m. last order)
*Seating is limited to 90 minutes
■ Menu / Price (Inc. tax / exc. service charge)
Marie Antoinette Afternoon Tea
JPY 5,280 (Weekdays)
JPY 6,380 (Weekends & National Holidays / with one glass of Champagne)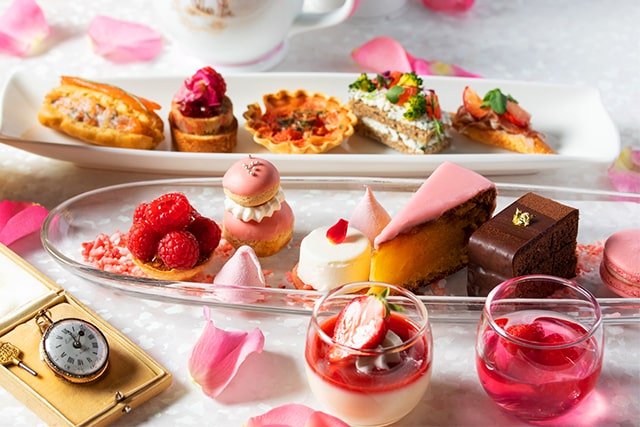 【Menu】
NINA'S MARIE ANTOINETTE original recipe cakes
NINA's original Marie Antoinette cake
Ninasette (chocolate cake)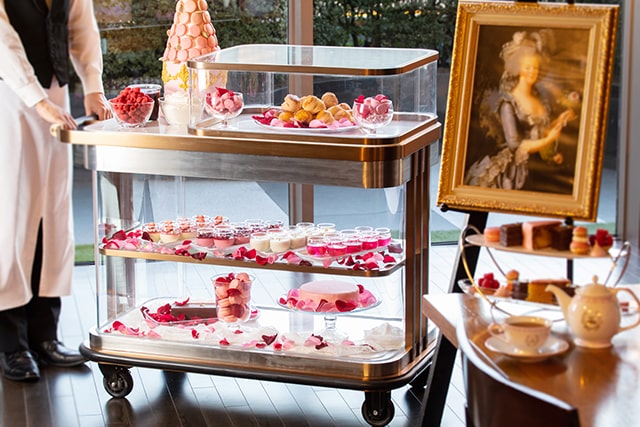 Sweets
Raspberry tarlet
Religieuse puff pastry
Crémet d'Anjou
Rose macaron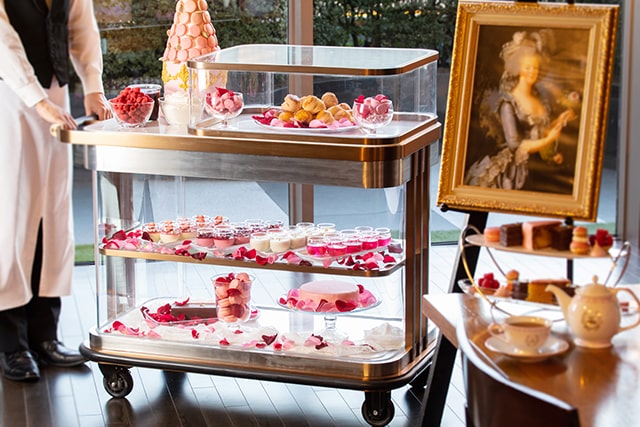 Glass Desserts
*Please note that two types of glass desserts will be randomly selected per person from the options below.
Rose jelly
Mascarpone cheese mousse
Raspberry mousse
Earl Grey tea mousse, bergamot cream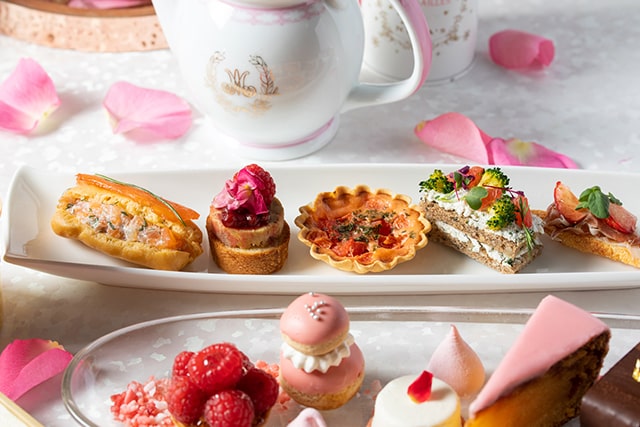 Savory
Tomato mini quiche
Ham and strawberry crostini
Dill and cottage cheese mille feuille, tomato and broccoli florets
Smoked salmon mousse éclair
Foie gras terrine with raspberry jam on brioche
Scones
Baked scones with rose and plain sweet cream, jam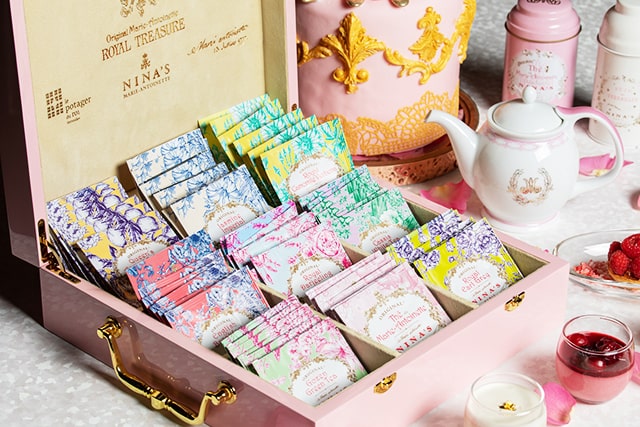 Tea
Choice of one premium tea from NINA'S MARIE-ANTOINETTE new "Royal Series"
Original Marie-Antoinette Tea
Cassis White Tea
English Breakfast
Gozen Green Tea
Jasmine Imperial
Queen's Apricot Oolong
Royal Camomille Verbena
Royal Darjeeling
Royal Earl Grey
Coffee
In addition to the above premium teas, enjoy unlimited servings of hot or iced coffee such as Espresso, American Coffee, Cafe au lait, Latte and Cappuccino.

*Please note that the menu may change.
The French Kitchen All-Day Dining
Phone

Website

Hours

Breakfast

6:30 a.m. - 10:30 a.m.

Lunch

11:30 a.m. - 2:30 p.m.
(weekends and national holidays 11:30 a.m. - 3:00 p.m.)

Afternoon

2:30 p.m. - 5:00 p.m.
(weekends and national holidays 3:00 p.m. - 5:00 p.m.)

Dinner

6:00 p.m. - 9:30 p.m.

Bar

11:00 a.m. - 9:30 p.m.

*Hours of operation have changed. Please click here for more info