Embark on a journey through
the French countryside
with dishes such as tender
venison bourguignon
and classic pâté de champagne.
The diverse à la carte breakfast menu also features
a Japanese breakfast
and options for health-conscious travelers,
including egg white omelets,
oatmeal with chia seeds and acai
with low-fat yogurt.
*All self-service buffet will be temporarily
suspended starting from 26 February 2020
until further notice.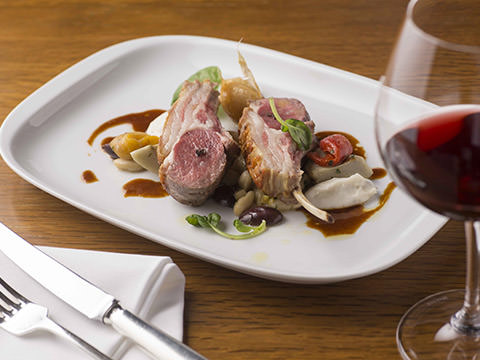 Main Course
Savor an array of exquisite French bistro cuisine with a customized dinner course where you can choose each dish from the à la carte menu. Enjoy simple and classic dishes that use seasonal ingredients, along with an wide selection of French wines.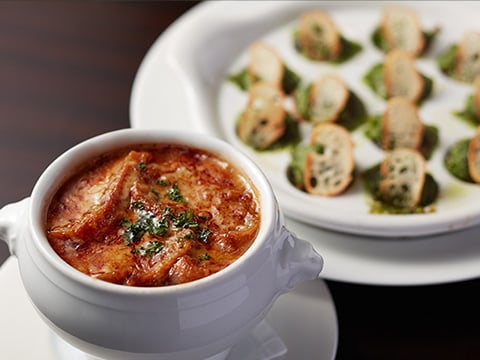 Appetizers
A selection of traditional French appetizers including a warm and hearty onion gratin soup, slowly simmered with sweet caramelized onions then topped with a toasted baguette and covered in melted Gruyere cheese. The tender escargot is another favorite with a garlic and herb butter-scented white wine sauce.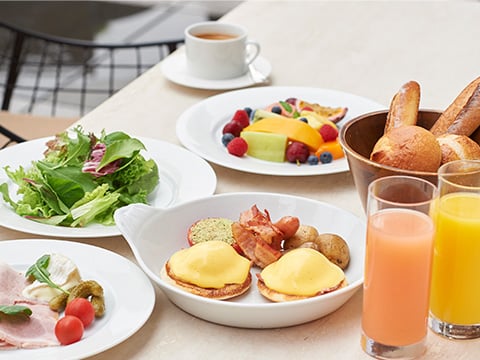 Breakfast Buffet
This breakfast buffet features approximately 50 dishes and an assortment of freshly baked bread. Chefs prepare breakfast favorites including French toast and eggs Benedict in front of your eyes in the open kitchen, and guests can enjoy a diverse selection of food including jambon blanc, cheese imported from France and more.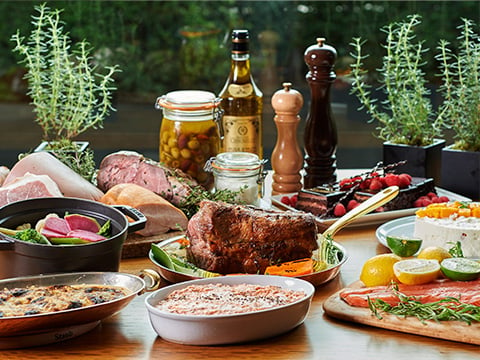 Lunch / Brunch Buffet
Chefs deliver perfectly timed dishes to the buffet station from the open kitchen providing diners with freshly prepared food. Enjoy the liveliness of the open kitchen along with exquisite culinary creations.