Grand Love – Our 2023 Holiday Charity Program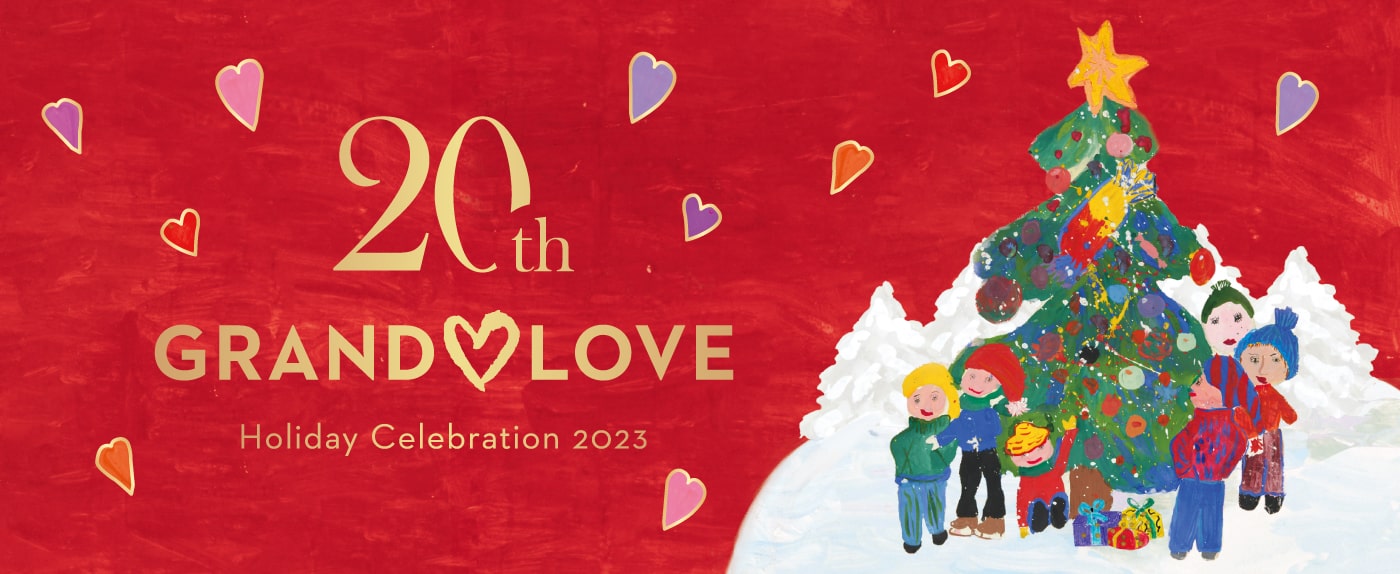 From November 11 to December 25, Grand Hyatt Tokyo will host its annual holiday charity program under this year's Grand Love theme, with the hope of performing great acts of kindness and inspiring a memorable holiday season.
Highlights of the program include the sale of charity hampers featuring Christmas ornaments made by people with disabilities using recycled cork from the hotel as a meaningful gift that gives back for a good cause. The lobby will also host a breathtaking holiday display in stunning red and gold to symbolize the grandest expressions of love. 20 beautiful heart motifs are artfully placed within the decorations as a celebration of the hotel's 20th anniversary. Alternatively, guests and the local community can participate in our SNS charity program for a chance to win hotel dining certificates. With the Grand Love charity program, Grand Hyatt Tokyo hopes to deliver the priceless gift of love to people around the world this winter holiday season.
Please click the following links for further details.
Lobby Holiday Decorations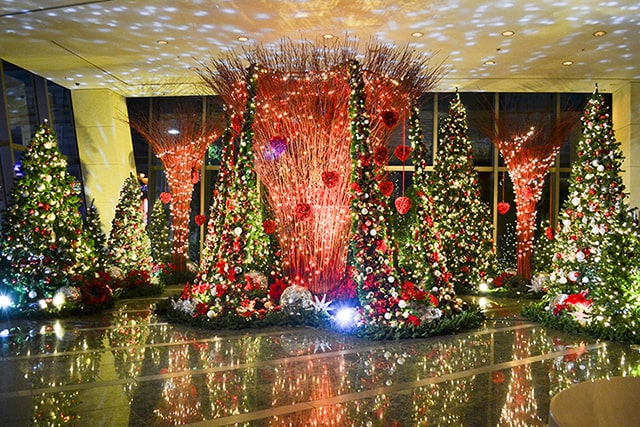 During this special time of year, the lobby's Christmas area will be transformed into a breathtaking space reflecting this year's Grand Love theme. The lobby will be decorated in deep red, symbolizing love, and sparkling gold to bring a celebratory, festive feeling to the display. 20 elegant heart motifs are woven into the decorations to represent Grand Hyatt Tokyo's 20th anniversary, as well as two decades of love, gratitude and appreciation for our guests. There will be donation boxes set up in this area to support the work of Kids Earth Fund.
■Dates: November 11 – December 25, 2023
■Location: 1st Floor Lobby Area
■Christmas Area Illumination Scheduled Hours: 7:00 a.m. – 11:00 p.m.

Photography Guidelines for the Christmas Area 

Holiday Charity Ornaments and Tiles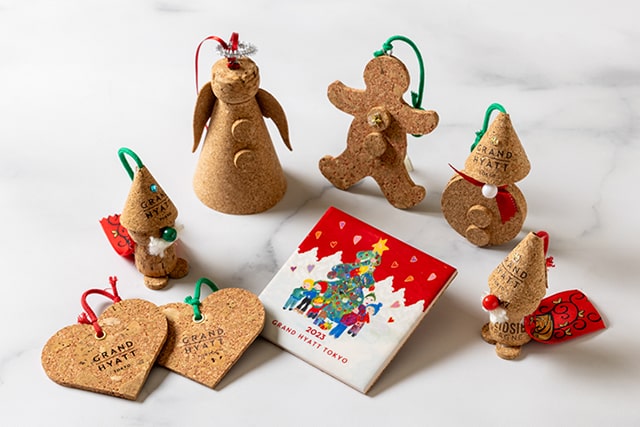 Grand Hyatt Tokyo is working with Re Kikou, a non-profit organization which employs people with disabilities, to transform recycled corks from the hotel into beautiful ornaments and tiles which feature images of children's paintings from Kids Earth Fund. All proceeds from the sale of these ornaments and tiles will be donated to Kids Earth Fund.
■Dates: November 11 – December 25, 2023
■Price: Ornaments JPY 500 each / Tiles JPY 1,000 each *limited availability
■Location: Available for purchase at the hotel's restaurants and bars, the Front Desk, Grand Club and Nagomi Spa and Fitness. Guests may hang these charitable gifts on the trees in the lobby or take them home.
Holiday Charity Hamper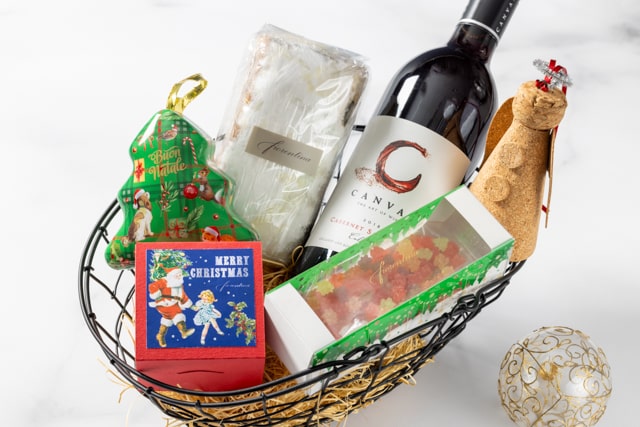 Fiorentina Pastry Boutique will offer a delightful, holiday charity hamper, featuring recycled cork Christmas ornaments made by people with disabilities with the help of Re Kikou. The hamper includes original sweets by our award-winning pastry chefs, including our iconic Christmas stollen, as well as a bottle of Hyatt original wine – perfect for seasonal gifting. By purchasing the gift basket, guests will be making a charitable contribution that supports the employment of people with disabilities.
■Dates: November 15 – December 25, 2023
■Price: JPY 10,500 (includes tax) *limited to 50 hampers
■Location: Fiorentina Pastry Boutique
■For details, click here
Grand Love Instagram Campaign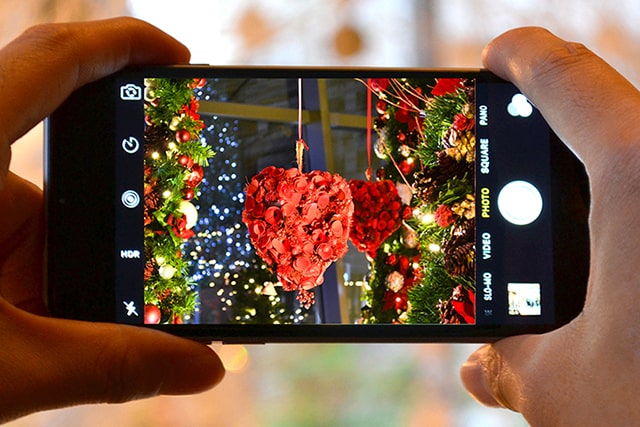 Guests are invited to participate in the SNS charity campaign by posting photos of Grand Hyatt Tokyo using the hashtags #grandlove2023 and our location tag. When the number of posts with the #grandlove2023 hashtag exceeds 1,000, the hotel will donate JPY 100,000 to Kids Earth Fund. As an extra incentive, guests who post photos will have a chance to win dining certificates for our restaurants and bars.
■Dates: November 11 – December 25, 2023
Please see the campaign page for more information.
Holiday Charity Program at Grand Hyatt Tokyo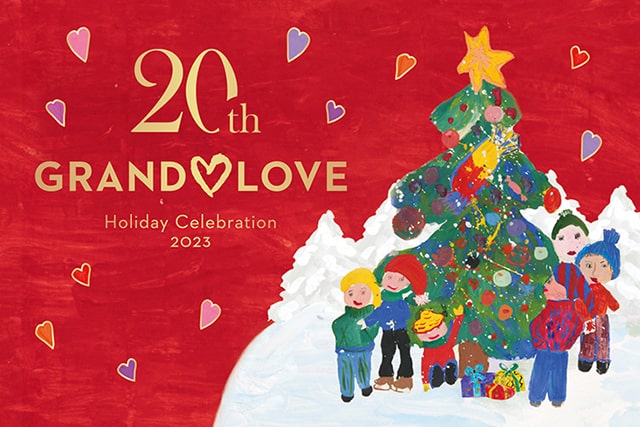 Grand Hyatt Tokyo has hosted a charity program every year since 2011. During the program, we offer original products in collaboration with Re Kikou, which recycles corks from wine and champagne bottles used at the hotel and transforms them into new products that support the employment of people with disabilities and offer them self-sufficiency. All proceeds are donated to Kids Earth Fund.
Established in 1988, Kids Earth Fund provides art supplies and necessary materials to children around the world who have been affected by diseases, wars and disasters. The main visual for Grand Hyatt Tokyo's charity program features children's artwork collected from around the world by Kids Earth Fund as part of our support for their initiatives.
Grand Hyatt Tokyo's Holiday Charity Partner
About Kids Earth Fund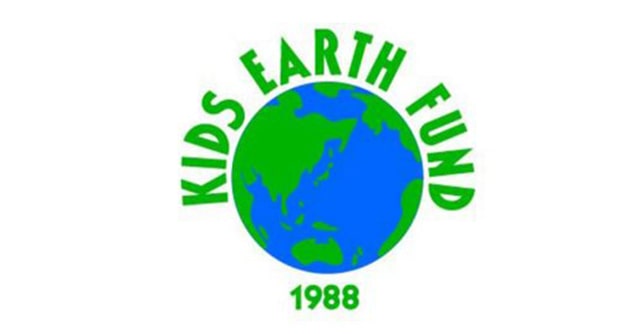 Kids Earth Fund (KEF) is a worldwide nonprofit organization that aims to nurture imaginative children and teach them the importance of expressing themselves. Since its establishment in 1988, KEF has sponsored and distributed art supplies, picture books, and other donations for children throughout the world who suffer due to war, illness and disasters. KEF also supports children's mental health through their KIDS EARTH HOME, which holds exhibitions of children's art works and charity activities. In 2020, KEF held regular workshops at nursing homes for children of refugees affected by COVID-19. In 2022, they held workshops for Ukrainian children as part of their support for Ukraine.
Official website: www.kidsearthfund.jp/en/
About Re Kikou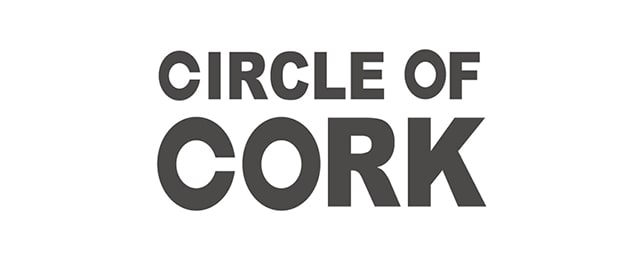 Re Kikou is a nonprofit organization that offers disabled people the opportunity to work in a safe environment. "Re" refers to reducing, reusing and recycling. The organization's cork recycling activities involve collecting and separating used corks, along with generating new ideas and crafting new products from these corks. This project assists disabled people with becoming independent, while also protecting the environment.
Official website: www.circle-of-cork.org (Japanese)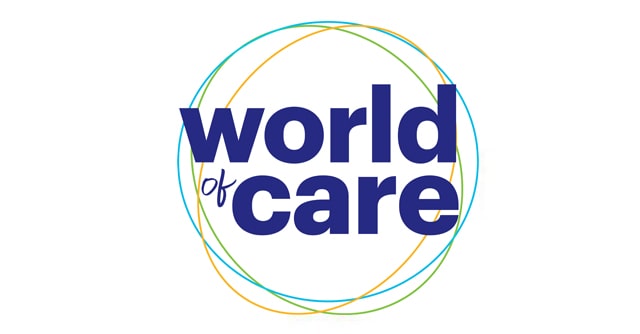 About Grand Hyatt Tokyo's Community Support in Japan
As part of Hyatt World of Care, a global platform for Environmental, Social and Governance (ESG) action that includes more than 1,250 Hyatt properties, Grand Hyatt Tokyo is involved in various projects and activities in support of regions that have been affected by devastating natural disasters. Since March 2011, Grand Hyatt Tokyo has supported communities affected by catastrophic disasters through monetary donations, charitable contributions and volunteer efforts. In 2020, a portion of our room charge was donated to the Japanese Red Cross Society to support the medical organizations that worked day and night to combat COVID-19. As of September 2023, more than JPY 63 million has been donated to local communities through various organizations, including Kids Earth Fund and Japanese Red Cross Society. Grand Hyatt Tokyo aims to increase this amount with its future charitable activities.