Celebrate the Holidays with a Lavish Brunch / Lunch
This holiday, gather with friends and family over a festive brunch and lunch at The French Kitchen and The Oak Door. The French Kitchen will offer a lunch buffet featuring an array of appetizers and main dishes as well as desserts made by award-winning pastry chefs. The Oak Door steakhouse will serve up a luxurious holiday brunch set with unlimited appetizers and desserts as well as a choice of one main dish such as crab omelette, crispy porchetta and 12-hour roasted rib eye beef. Enjoy both meals with free-flowing Champagne.
The Oak Door (6F Steakhouse)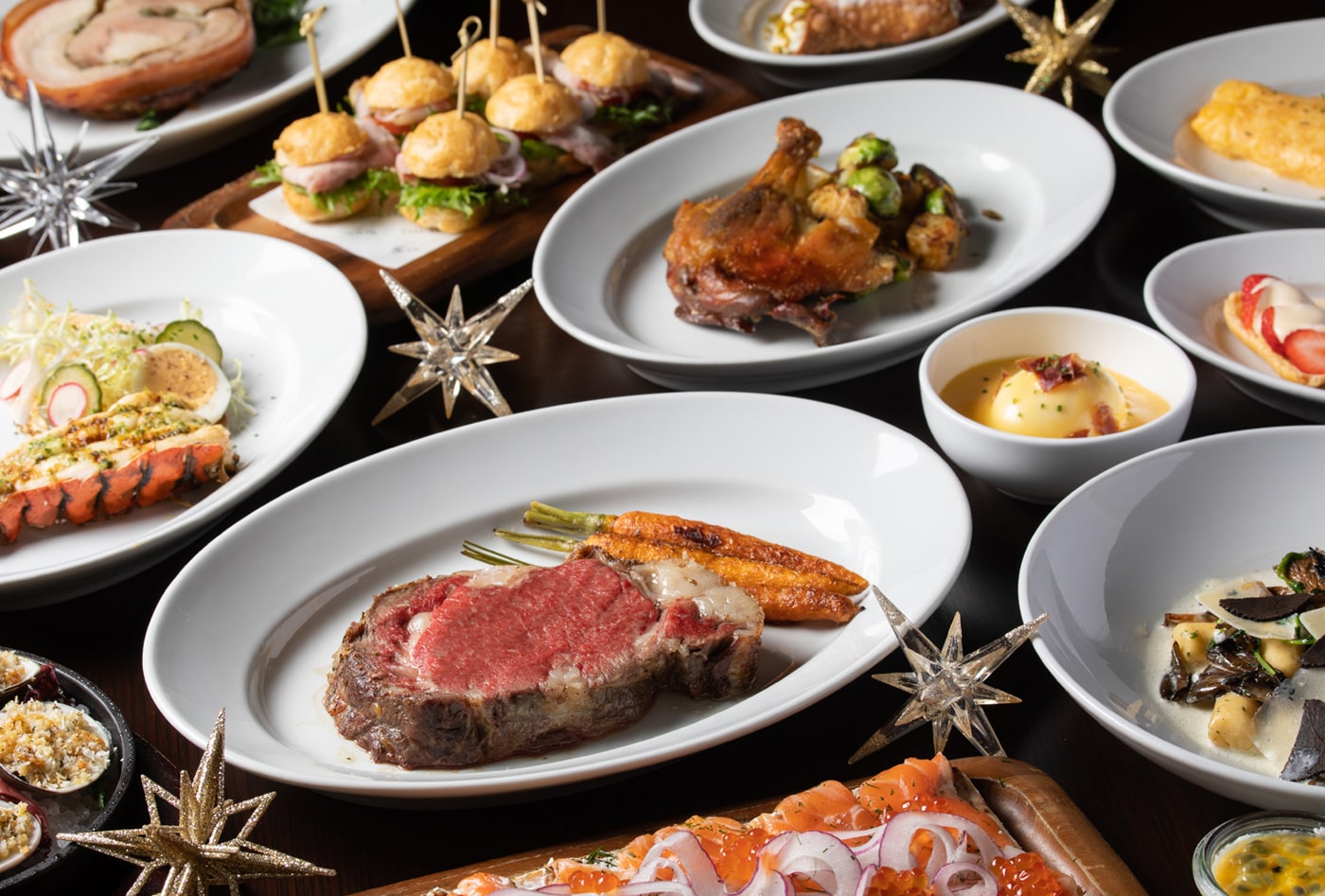 The Oak Door steakhouse offers a luxurious brunch that is perfect for the holidays.
Unlimited appetizers feature breakfast favorites including French toast and poached eggs and diners can choose from one of five main dishes such as the duck hash and 12-hour slow-roasted rib eye.
This holiday season, invite loved ones for a leisurely brunch in an exclusive atmosphere at The Oak Door.
■ Period
December 24 – 26, 2021 / January 1 – 3, 2022

December 24
11:30 a.m. – 2:30 p.m.
December 25・26・January 1 – 3, 2022
11:30 a.m. – 3:00 p.m.
■ Menu / Price (Inc. tax / exc. service charge)
Holiday Brunch
Food only ¥8,250(per person)
Includes free-flowing drinks ¥13,090(per person)
 
◆ Appertizer (*Unlimited)
 
– Poached egg, red eye gravy sauce, polenta
– Gravlax salmon, Ikura, red onion, caper
– Baked Hamaguri, clam jus, herb bread crumbs
– Bacon lettuce avocado tomato gougère
– French toast, mango
 
◆ Main dish(*Choose 1 item)
– Wild mushroom gnocchi, truffle, Parmesan cheese
– Crab omelettes, citrus salad
– Porchetta, Chijimi spiach
– Lobster thermidor, open-faced sandwich, pickles, egg, Russian dressing
– 12 hour US Rib eye roast, roasted vegetables
– Duck hash, duck leg, potato, leeks, Brussels sprouts
 
◆ Dessert (*Unlimited)
– Strawberry sabayon
– Coconut pudding, passion fruits
– Pineapple upside down cake
– Ricotta-mascarpone cream cannoli, chocolate, pistachio
– Mini cinnamon rolls
 
◆ Coffee or tea
The French Kitchen (2F All-day Dining)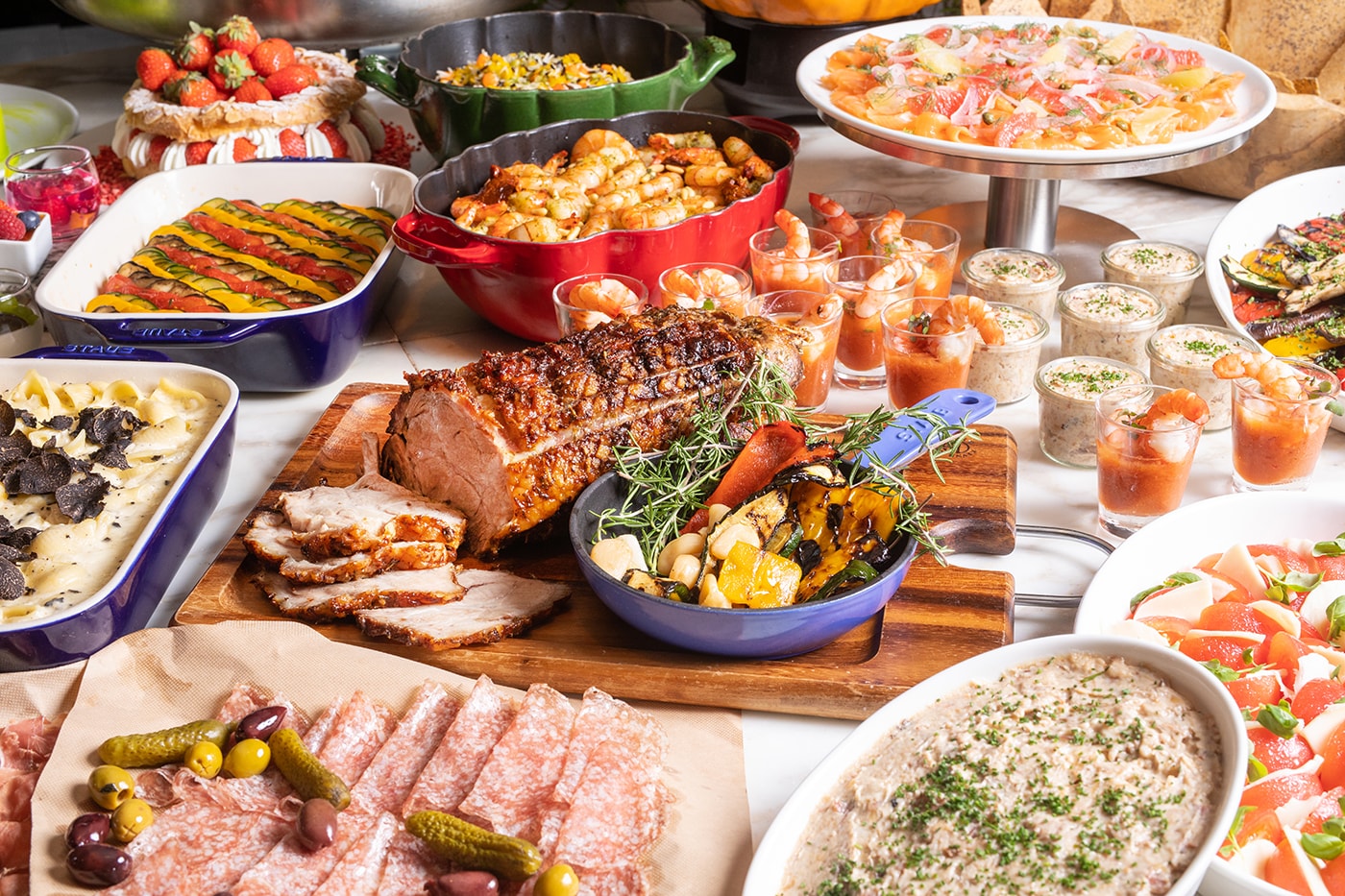 Enjoy a holiday lunch buffet at The French Kitchen where you can savor an array of delectable dishes and desserts to your heart's content. Choose from a selection of cold appetizers including terrine and prosciutto, as well as freshly-prepared hot dishes from the open kitchen.
Slow-roasted rotisserie pork and chicken will be served at the table, and diners may also indulge in an unlimited amount of sumptuous desserts prepared by the hotel's award-winning pastry chefs.
■ Period
December 24 – December 26, 2021・December 30, 2021 – January 3, 2022

December 24
11:30 a.m. – 2:30 p.m.
December 25・26・30 – January 3, 2021
11:30 a.m. – 3:00 p.m.
■ Menu / Price (Inc. tax / exc. service charge)
Holiday Lunch Buffet
◆ With a glass of Champagne: JPY 8,800 (per person)
◆ With free-flow including Champagne: JPY 10,450 (per person)
○Served at the table
– Daily Rotisserie Plate
– Omelette and Egg Benedict
○ All you can eat ~ Classic Bistro Buffet ~
– Charcuterie
– Cold Appetizer
– Cheese
– Soup
– Pasta
– Meat
– Fish
– Vegetable Side Dishes
– Dessert

The French Kitchen All-Day Dining
Phone

Website

Hours

Breakfast

6:30 a.m. - 10:30 a.m.

Lunch

11:30 a.m. - 2:30 p.m.
(weekends and national holidays 11:30 a.m. - 3:00 p.m.)

Afternoon

2:30 p.m. - 5:00 p.m.
(weekends and national holidays 3:00 p.m. - 5:00 p.m.)

Dinner

6:00 p.m. - 9:30 p.m.

Bar

11:00 a.m. - 9:30 p.m.

*Hours of operation have changed. Please click here for more info