Halloween Afternoon Tea Takeout Box with Festive Decorations
Enjoy a festive Halloween at home with our new Halloween afternoon tea takeout box, complete with decorations such as Halloween balloons and masks from Japan's oldest balloon specialty store, "Tuxedo Bear" located in Nishi-Azabu near Grand Hyatt Tokyo. Additionally, to save you the hassle of picking up your order at the hotel, the box will also be available for delivery by Food-E delivery service to places that are within five kilometers of Grand Hyatt Tokyo.
*Please note that photos are an image and there may be individual differences in the color and appearance.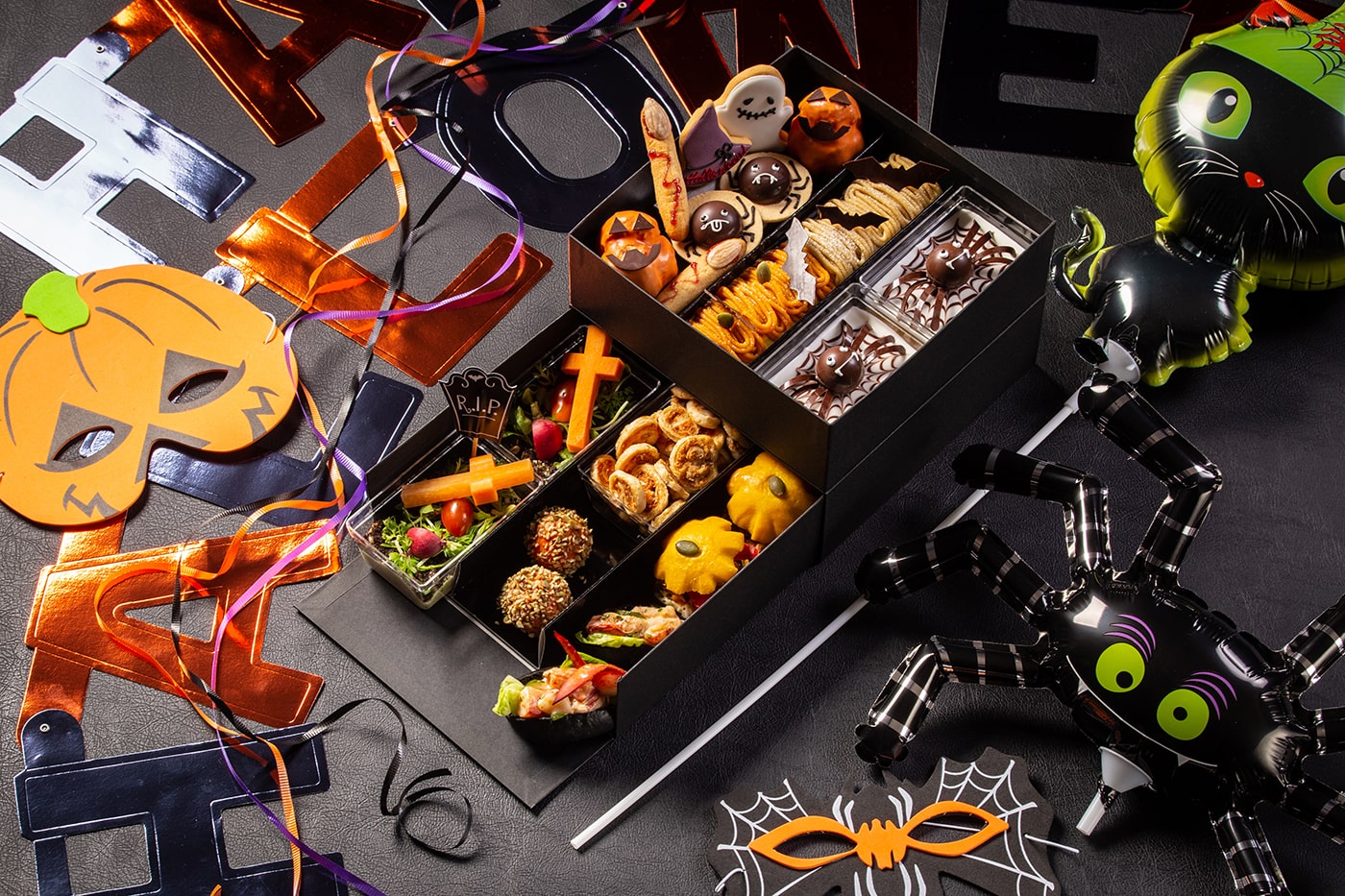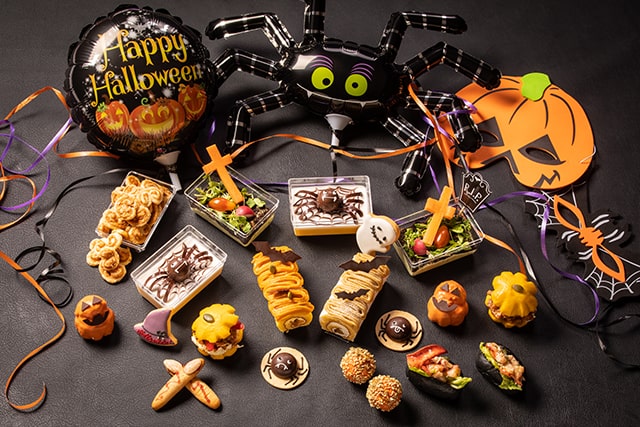 Period
October 1 -31, 2021
*Limited quantity available. Reservations will not be accepted once this amount it reached.
*SOLD OUT

Pick-up Location & Hours
Fiorentina Pastry Boutique (1st Floor) *Delivery is not available
12:00 p.m. – 8:00 p.m.
Item / Price (Inc. tax)
Halloween Afternoon Tea Takeout Box (serves two)
JPY 9,720 
The black box includes sweet and savory items such as pumpkin mousse, spider chocolates, eerie finger-shaped cookies, mini burgers with pumpkin-shaped brioche buns and a voodoo lobster roll.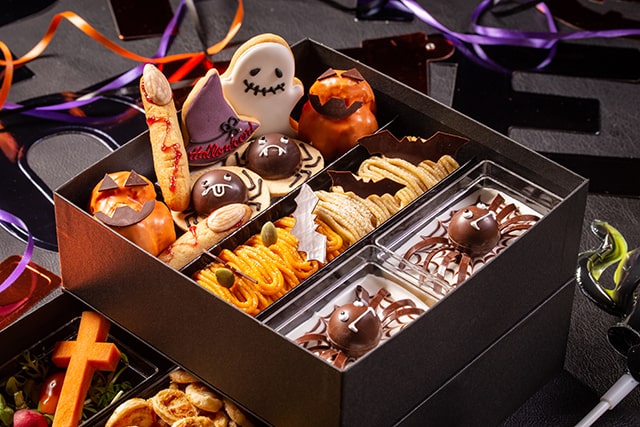 Upper Tier: Sweets (two of each)
Rolled chestnut and pumpkin cake
Pumpkin mousse, Spider chocolate
Halloween icing and finger cookie
Pumpkin cream puff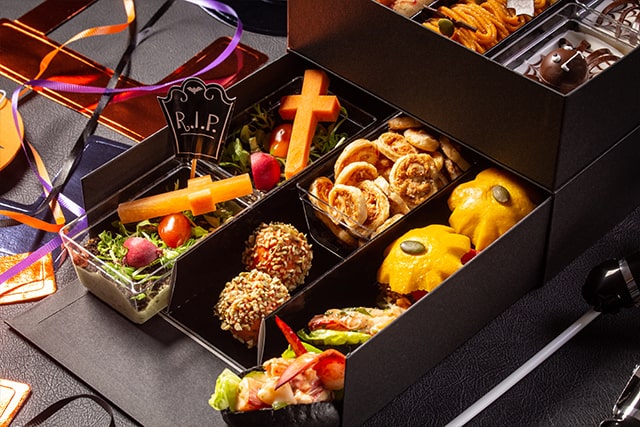 Bottom Tier: Savory (two of each)
Avocado graveyard (Avocado dip, pumpernickel, carrot crudité, cheese Palmiers)
Devils pumpkin (Spicy pulled pork, coleslaw, red chili, pumpkin bun)
Voodoo lobster roll (Boston lobster, cocktail sauce)
Eyeball foie gras (Foie gras, hazelnut, pumpkin seeds)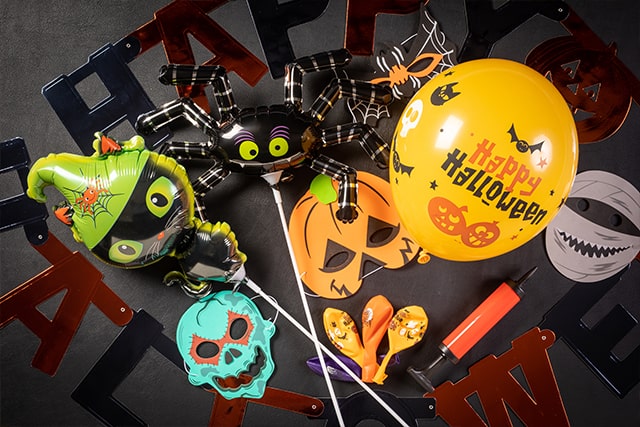 Halloween Party Decorations
HAPPY HALLOWEEN garland × 1
Face mask x2
Halloween stick balloons x 2
Halloween balloons x 5
*Please note that the colors and shapes may not be chosen and the contents are subject to change.
FOOD-E Gourmet Delivery Service
Customers who live in a 5-kilometer radius of Grand Hyatt Tokyo, may enjoy the convenience of using our gourmet delivery service partner FOOD-E (reservations required at least 3 days in advance, service charge and delivery fee not included). *Orders are accepted on The Oak Door's page on FOOD-E.
*Online reservation has been ended.

Tuxedo Bear – Japan's oldest balloon shop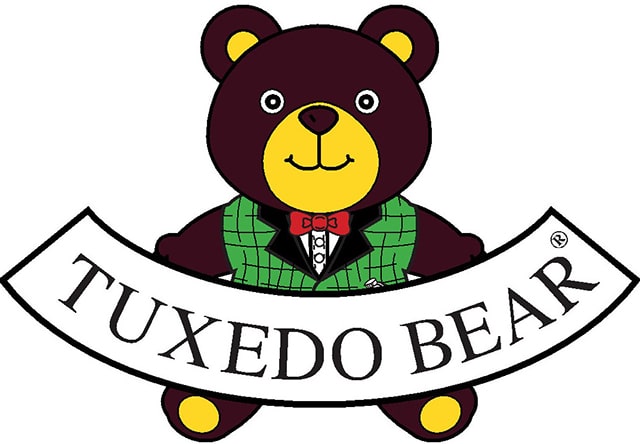 The history of the balloon shop "Tuxedo Bear" begins in 1986 when a small shop opened in Minami-Azabu, Tokyo. Because of the location, many international customers visited the store, and since its opening, it has been introduced in various newspapers and magazines, and has been visited by many celebrities. In 2007, they moved their location to Nishi-Azabu and reopened. Taking advantage of the knowledge and technology gained from many years of experience, balloon professionals deliver high-quality products and services.