Chinaroom's Premium Takeout Plates Perfect for Gatherings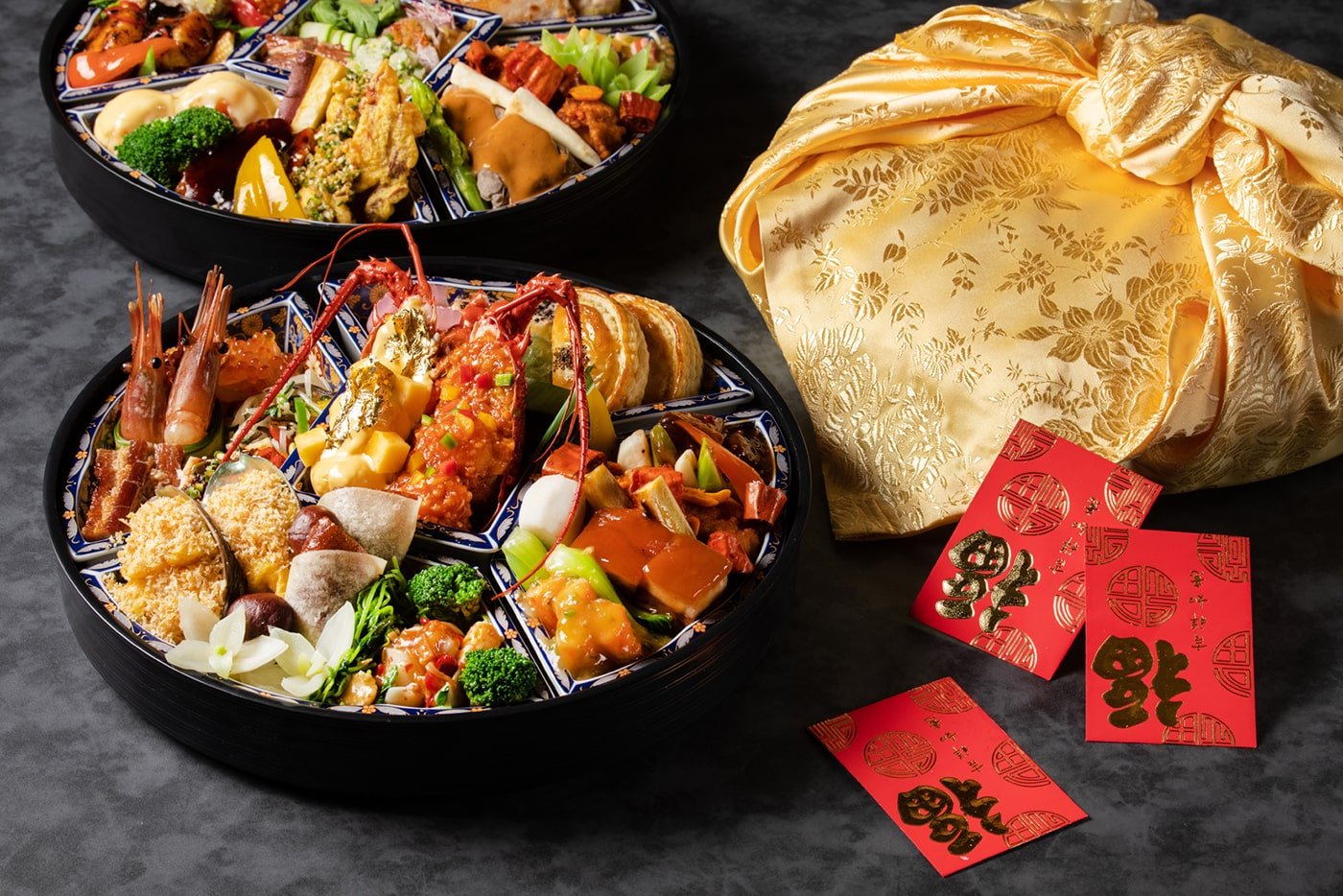 Enjoy New Year's at home with luxurious takeout plates from Chinaroom. The takeout plates feature Chinaroom's most popular dishes, and customers can choose between the "signature plate," which includes classic dishes such as shrimp in chili sauce and spicy Shingen chicken stir-fry or the "premium plate," which features Peking duck, abalone and premium dim sum. Additionally, the serving plates are made of Mino-yaki pottery and can be rotated when placed on a table, so you can enjoy the feeling of being in a restaurant.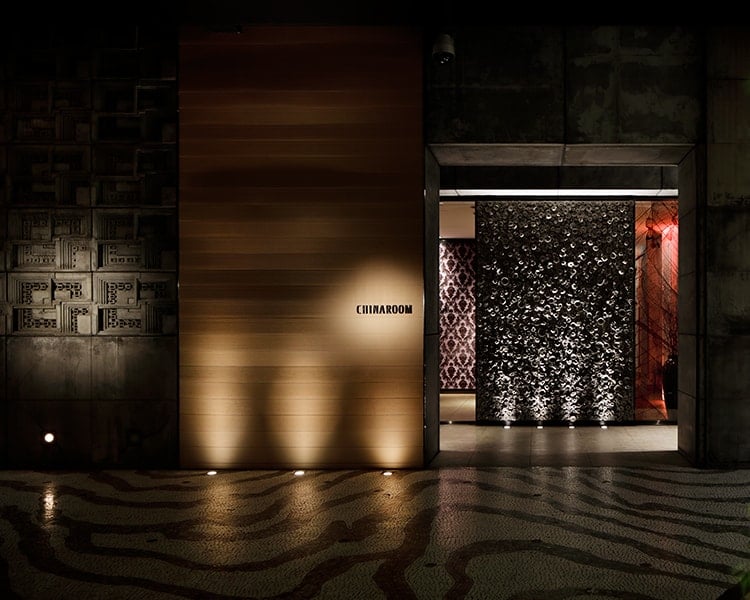 Period
December 1 – 31, 2023
Pre-order Period
Until December 24, 2023
*Please make a reservation at least 7 days before the pick-up date.
*Reservations can be made online.
*Book online at least two weeks in advance and receive a special XO sauce from Chinaroom.
Pick-up Location & Hours
Please pick up these items at Chinaroom (6F).
[Pick-up Hours] 5:00 p.m. – 9:00 p.m.
Menu / Price (Inc. tax)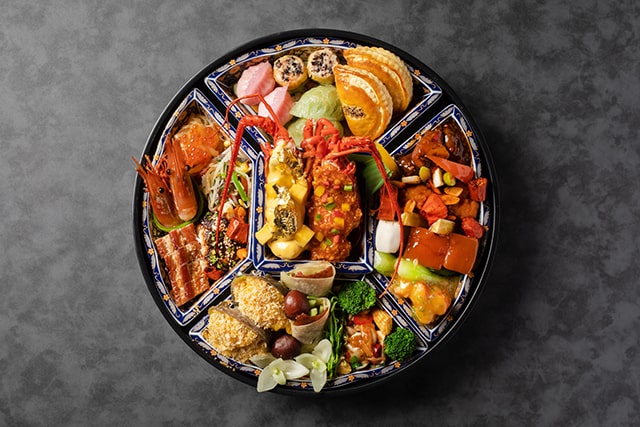 Chinaroom Premium Plate (39 cm diameter)
JPY 55,000 (for approximately 2-4 people)
Honey roasted barbecued pork
Jellyfish salad
Drunken shrimp, Chinese rice wine
Poached Sichuan style chicken, spicy sesame sauce
Pickled vegetables (Zha cai, peppers, Chinese celery, wood ear)
Steamed shrimp dumpling
Steamed spicy scallop, shrimp and chive dumpling
Shrimp and truffle shumai
Wagyu beef in puff pastry, black pepper
Stir-fried whelk, XO sauce
Spiny lobster, chili sauce
Spiny lobster, mayonnaise sauce
Thinly sliced Matsuzaka pork, Chinese wine flavored sauce
Deep-fried chicken Sichuan style
King crab, Shanghai crab miso sauce
Japanese beef tenderloin, black pepper sauce
Stir-fried Japanese abalone, fried garlic sauce
Peking duck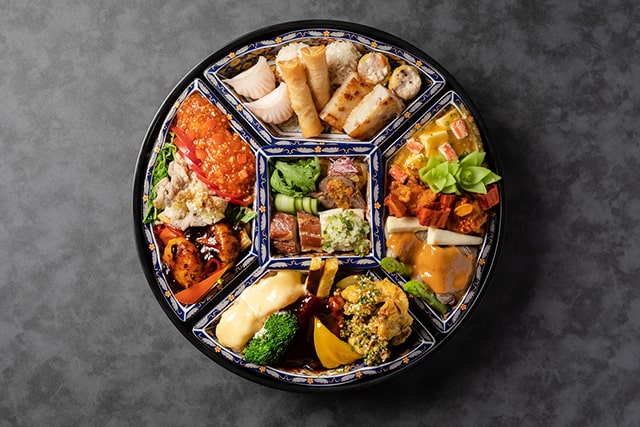 Chinaroom Signature Plate (39 cm diameter)
JPY 33,000 (for approximately 2-4 people)
Honey roasted barbecued pork
Poached chicken, onion and ginger sauce
Chrysanthemum cress, garlic, ginger vinaigrette
Beef shank, Manganji sauce
Jellyfish salad
Steamed shrimp dumpling
Deep-fried spring roll
Chicken dumpling, sticky rice coating
Shrimp and pork shumai
Radish cake
Shrimp, chili sauce
Shrimp, mayonnaise sauce
Deep-fried soft shell crab, Chinese leek sauce
Stir-fried scallop, black bean sauce
Deep-fried Japanese pork, Zhenjiang vinegar
Deep-fried chicken Sichuan style
Duck breast, leek and Japanese pepper sauce
Thinly sliced Tokachi beef sirloin, sesame sauce
Braised bean curd, Shanghai crab miso
Notes
Please consume the food as soon as possible after pick-up.
Please be careful when carrying and handling the item. They may not be returned or exchanged.
A 100% cancellation fee will apply from 3 days prior to the pick-up date.
Please note that other benefits and discounts may not be applied to this menu and is also not eligible for points, etc.
Please note that the items may vary due to availability of seasonal ingredients.
CHINAROOM Chinese
Phone

Website

Hours

Lunch

11:30 a.m. - 2:30 p.m.
(weekends and national holidays 11:30 a.m. - 3:00 p.m.)

Dinner

6:00 p.m. - 9:00 p.m.

*Chinaroom is temporarily closed on Tuesdays until further notice.