Stay in the World's First Takashi Murakami Flower Art Gallery Room
Grand Hyatt Tokyo presents a new Takashi Murakami Flower Gallery stay package in collaboration with the renowned artist and as part of the Roppongi Hills Takashi Murakami Project.
The stay package is the first of its kind and is being offered exclusively in one suite that features 14 pieces of original artwork and sculptures of his signature Flower motif, that were created specially for this collaboration.

During the stay, immerse yourself in the cute and colorful world of Takashi Murakami with a special in-room Flower dinner course, a Flower sweets box with Champagne, an autographed art book and an optional Flower nail art service that is sure to delight art aficionados.

©︎2021 Takashi Murakami/Kaikai Kiki Co., Ltd. All Rights Reserved.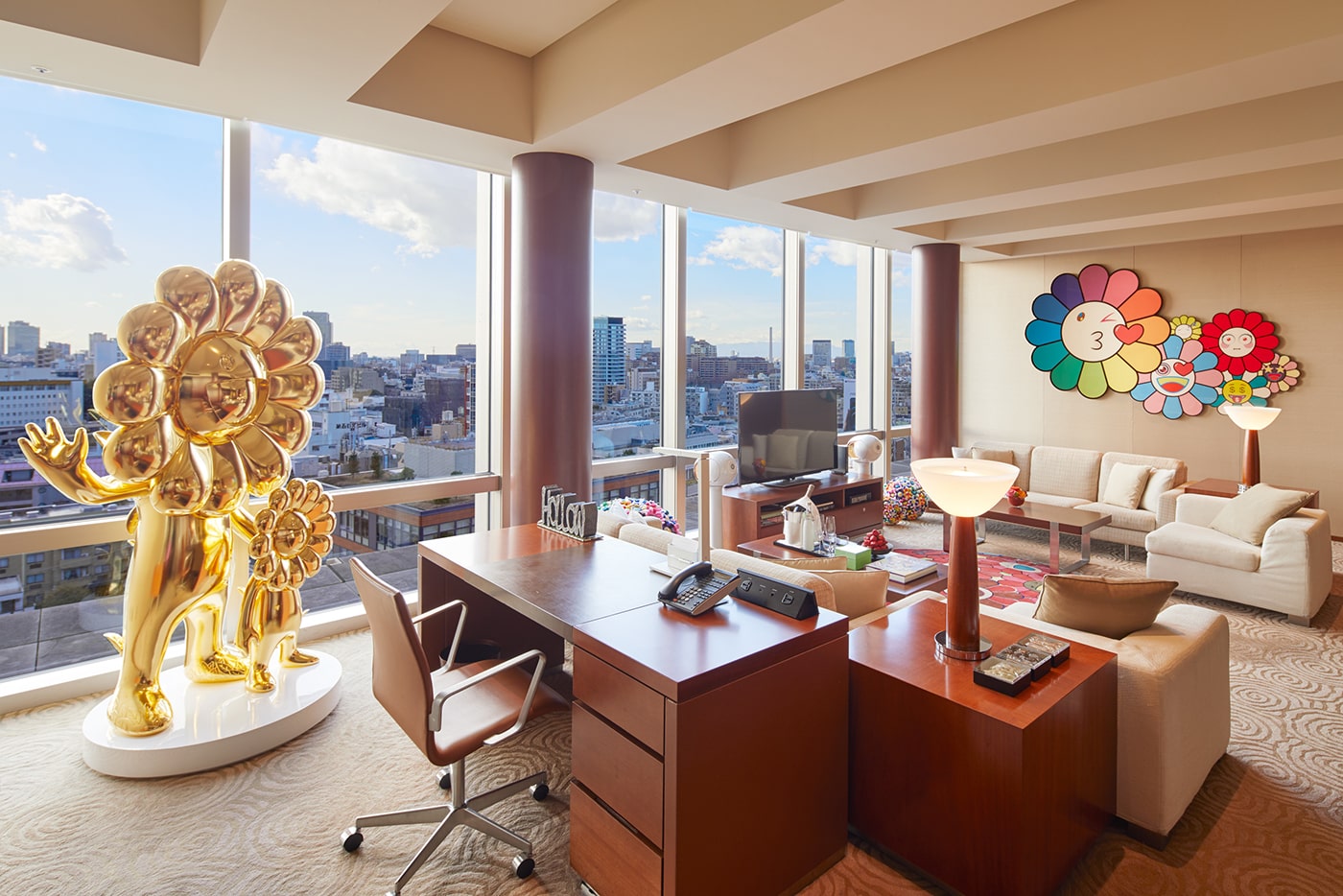 Accepting just one reservation per day, book this exclusive suite and spend a night amongst Takashi Murakami's original Flower and Flower Parent and Child artwork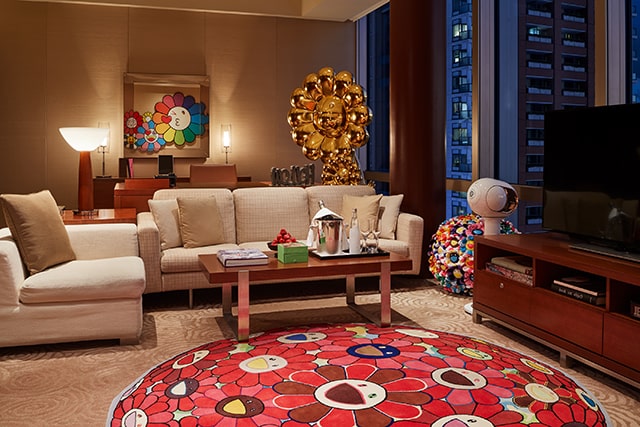 A unique stay package produced by Takashi Murakami himself, the suite features original artwork of his signature Flower motif including a 195-cm golden Flower Parent and Child sculpture, a plush Flower Parent and Child stuffed animal in the bedroom, as well as paintings, rugs and flowerballs in the living room; and some art will even appear in the bathrooms. Enjoy complete privacy and the feeling as if you are staying in a one-of-a-kind private art gallery that was arranged just for you.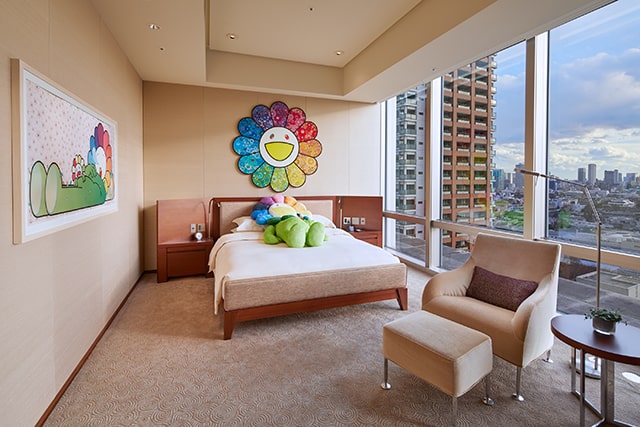 In addition to the artwork, experience a special in-room Flower dinner course and Flower sweets box, receive a copy of an autographed art book and reserve an optional Flower nail art service to enjoy in the comfort of the spacious Chairman suite with floor-to-ceiling windows and views overlooking the city.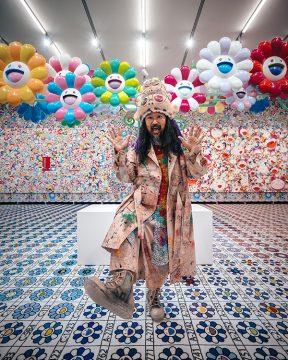 Message from Takashi Murakami
"When I started to travel around the world and stay at hotels, I noticed that there were always works of art exhibited at Hyatt hotels, starting in the entrance area and all the way into individual guestrooms. I remember thinking, 'Oh, I see there is a need for art in this kind of context.' It was different from the context of art with which I was working so I was fascinated. I wanted to try dipping into such a world, but I couldn't find the entrance, and there was just no way in. So I am happy to have such a special opportunity to display my work in a hotel room, and make my long-held dream come true."
Photo by RK (IG: @rkrkrk)
Period
January 9 – June 1, 2021 check out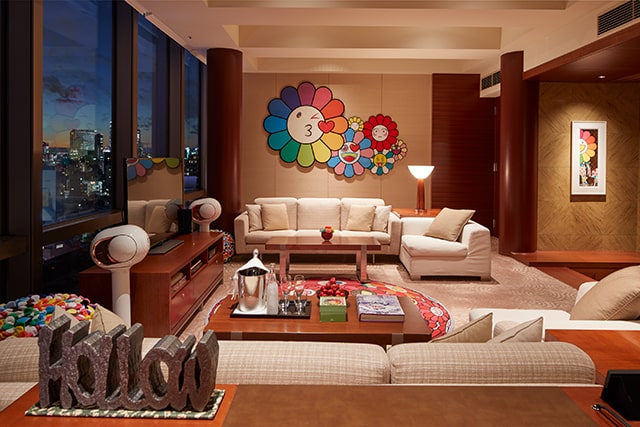 Price (Inc. tax / exc. service charge)
Roppongi Hills Takashi Murakami Project, Takashi Murakami Flower Gallery Stay
JPY 495,000

*Price is for two guests. For additional guests, there will be a JPY 22,000 fee and the room can accommodate a maximum of three guests.
*One autographed art book will be provided per stay.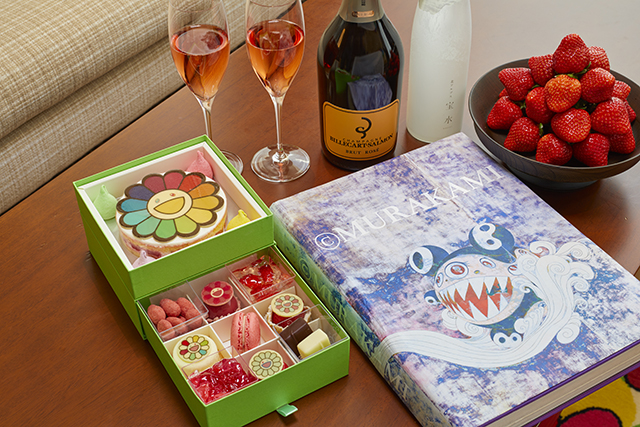 Stay Package Details (for two guests)
A stay in the Chairman Suite
Original Flower sweets box and rosé Champagne
Flower in-room dinner course
(one meal per stay for two people)
Art book signed by Takashi Murakami
Flower mask and Flower mug (limited quantity)
Suite benefits
(Access to the Grand Club lounge, Nagomi Spa and Fitness, etc.)

[Optional]

Flower Parent and Child in-room nail art
*Additional fees will apply.
Flower in-room dinner course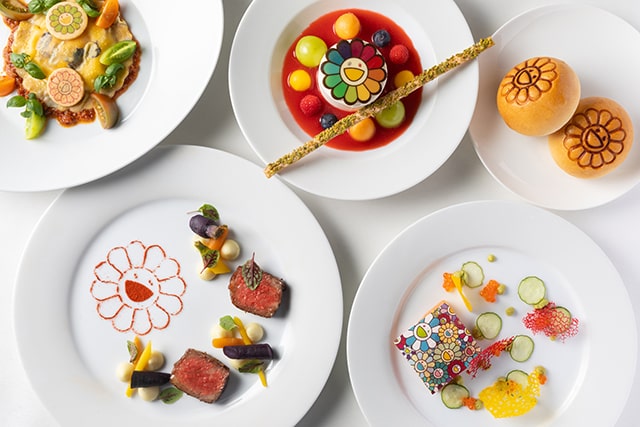 [Menu Details]
French Kitchen smoked salmon, trout caviar, salmon rillette, compressed cucumber, avocado puree
Japanese pumpkin ravioli, sundried tomato pesto, parmesan sable biscuits
Grilled F1 sirloin, colorful carrots, potato puree, red wine jus
Fromage blanc mousse, strawberry coulis, fresh fruits
Dinner Delivery Time
Please choose a delivery time (see options below).

[1] 6:00 p.m. – 6:30 p.m.
[2] 6:30 p.m. – 7:00 p.m.
[3] 7:00 p.m. – 7:30 p.m.
[4] 7:30 p.m. – 8:00 p.m.
[5] 8:00 p.m. – 8:30 p.m.
[6] 8:30 p.m. – 9:00 p.m.
[7] 9:00 p.m. – 9:30 p.m.
For online reservations, please enter the desired delivery time in the "Request" field on the reservation form.
When booking over the phone, please inform the operator of your preferred delivery time.
Notes
A 100% cancellation fee will apply for cancellations that are made less than three days prior to the arrival date.
Guests must read and sign the accommodation terms and conditions of this stay package before the stay
Items installed in the guestroom cannot be taken home
Subject to change based on future COVID-19 situation and overall government policy
If you book this plan for two consecutive dates and check-in again on the same day as check-out (within 24 hours), it will be counted as one stay
Limited quantity of masks and mugs are available and will be offered until the stock runs out.
Reservations
Online booking:
Click on the button below and select your desired reservation dates in the upper right area of the page to check the availability.
Over the phone:
Global Contact Center (Hyatt Reservations): Phone  0120-088-188
*Please inform the operator of this plan's offer code "flower"
Other "ROPPONGI HILLS TAKASHI MURAKAMI PROJECT" Offers
Takashi Murakami Flower Sweets Takeout Box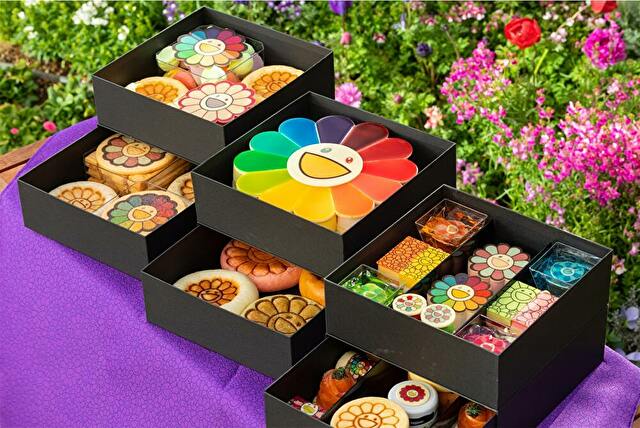 Grand Hyatt Tokyo introduces three new colorful takeout boxes featuring sweet and savory items inspired by renowned artist Takashi Murakami's signature Flower motif as part of the Roppongi Hills Takashi Murakami Project. Experience the world of Takashi Murakami at home or as the weather gets warmer, take some boxes to enjoy outdoors.
Takashi Murakami's Flower Cookies and Bread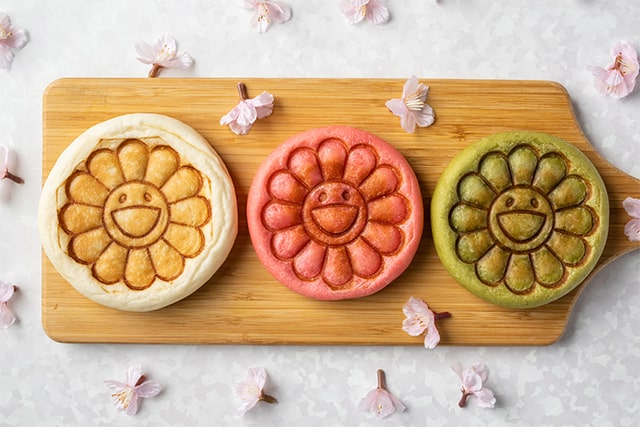 Fiorentina Pastry Boutique is offering delightful white chocolate cookies and bread filled with sweet bean paste modeled after artist Takashi Murakami's famous 'Flower' works as part of the collaboration with the Roppongi Hills Takashi Murakami Project.