Spring Lunch Hub on The Terrace
From 1 April, enjoy the freedom of ordering signature items from three different restaurants at Grand Hyatt Tokyo on the breezy terrace of The Oak Door. Savor regional Chinese fare from Chinaroom, fresh Edo-mae sushi from Roku Roku and classic steakhouse cuisine from The Oak Door.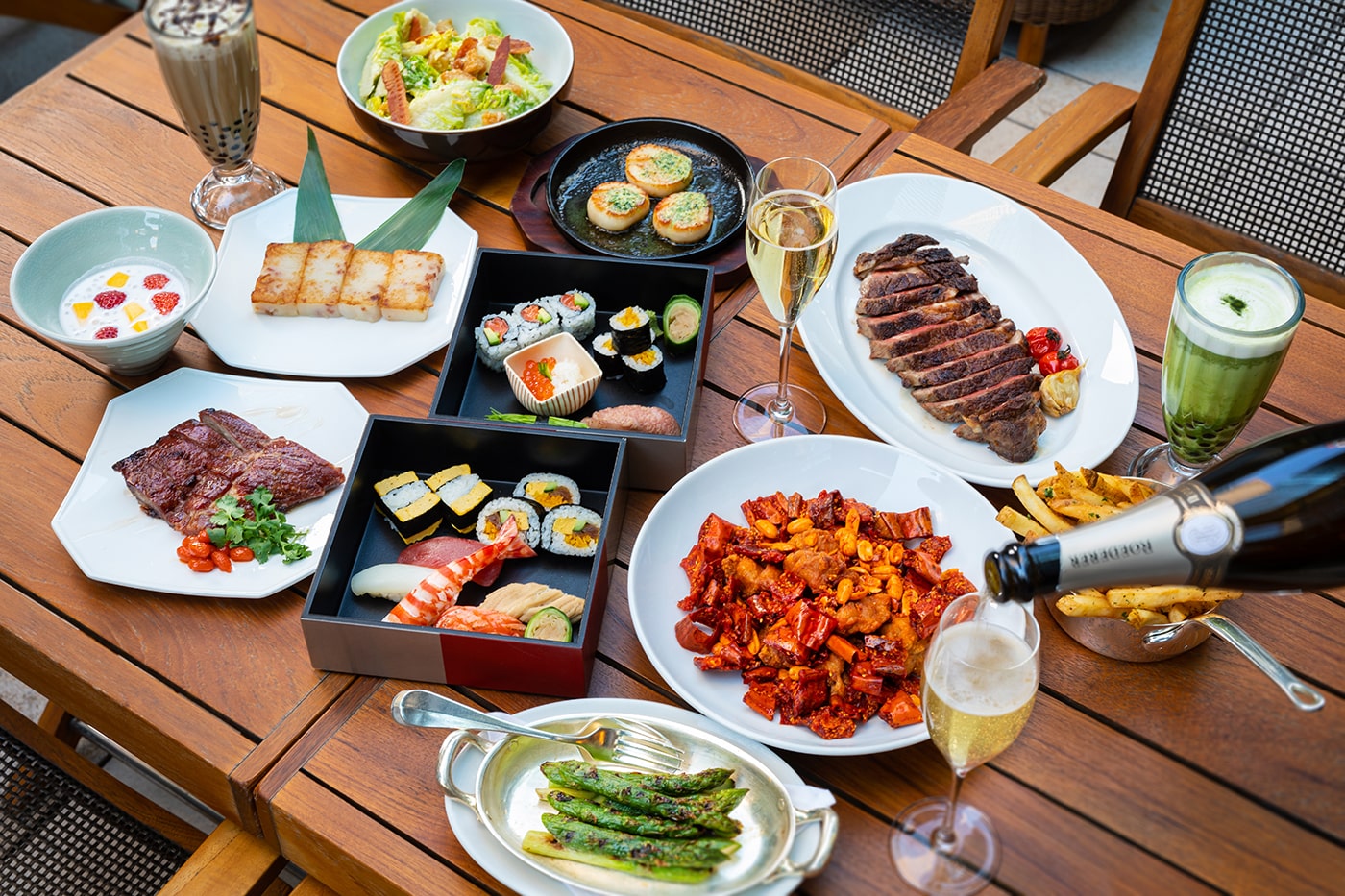 Period
1 April – 30 June 2019
Lunch 11:30 a.m. – 2:30 p.m. (weekends and holidays until 3:00 p.m.)
Menu / Price (subject to tax and service charge)
■Special Online Set Menu ★NEW
JPY 4,100 per person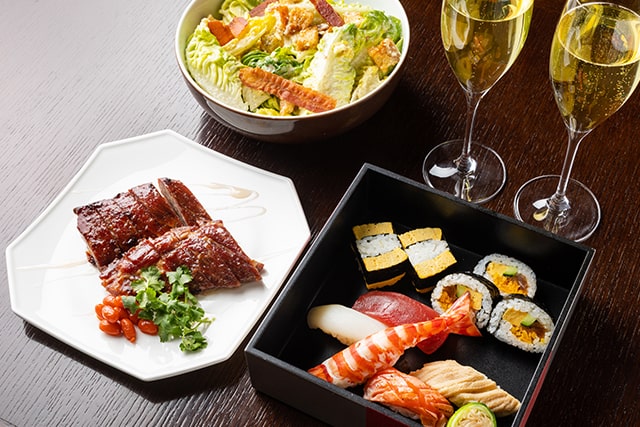 Online special offer!
JPY 5,600 ⇒ JPY 4,100 (26%off)
Caesar Salad, Sourdough Croutons, Bacon
Barbecued Pork Puff Pastry
Daily Selection of Nigiri Sushi, Sushi Roll (small)
Welcome Drink (One per person)
Sparkling wine, wine (red and white), beer, soft drinks
* Available from two people
* In case of unfavorable weather, Seating of bar area will be provided.

■A la carte
[The Oak Door]
The Oak Door steakhouse will offer long-time favorites such as the sizzling scallops, classic Cesar salad and a juicy rib eye steak.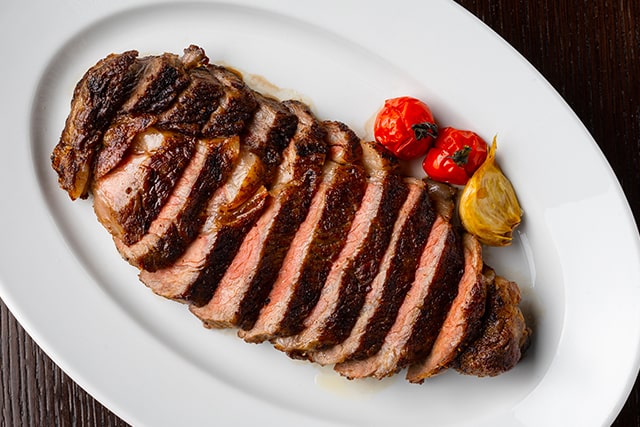 Rib Eye, Nebraska, USA 450g / 16oz
JPY 9,800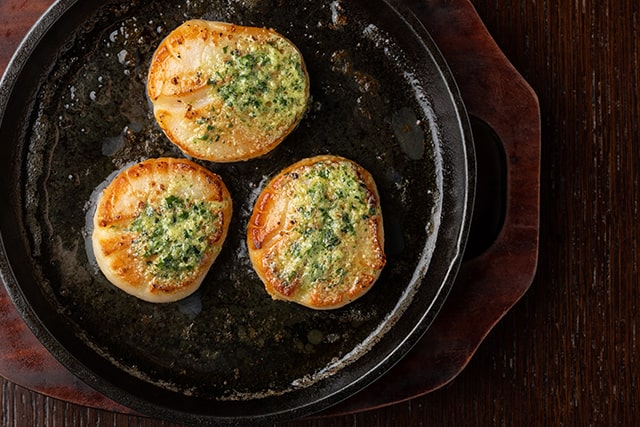 Sizzling Scallops, Herb Butter
JPY 3,100
Potato Fries, Parsley
JPY 1,200
Green Asparagus
JPY 1,200
[Chinaroom]
Chinaroom specializes in regional Chinese cuisine prepared and presented with a modern flair. Enjoy authentic dishes such as Sichuan-style spicy chicken and barbecued pork puff pastry.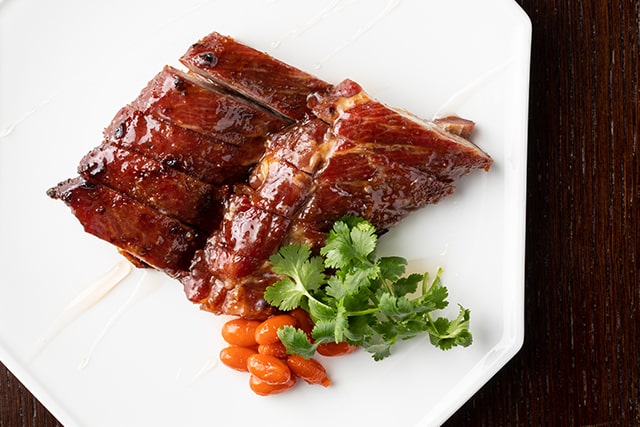 Barbecued Pork Puff Pastry
JPY 3,000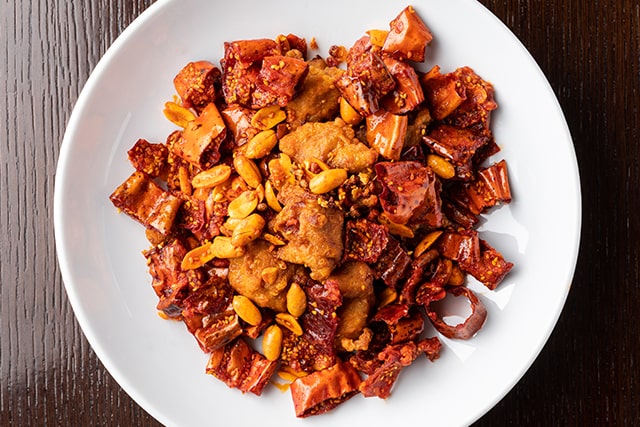 Spicy Chicken Sichuan-style
JPY 4,200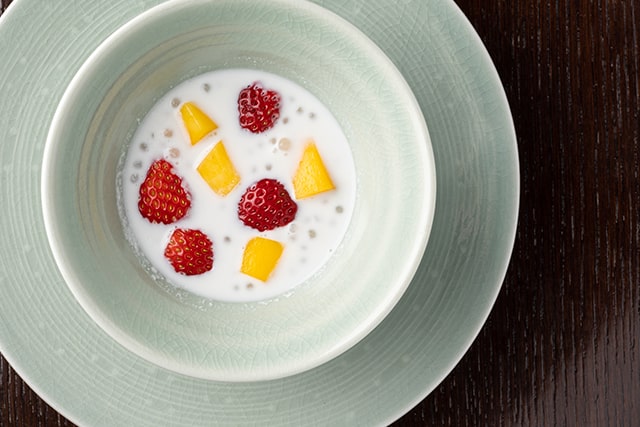 Coconut Tapioca
JPY 1,100
Pan-fried Radish Cake
JPY 1,200
[Roku Roku]
Roku Roku offers Edo-mae (classic Tokyo-style) sushi and sashimi, carefully prepared using only the best ingredients from the fish market.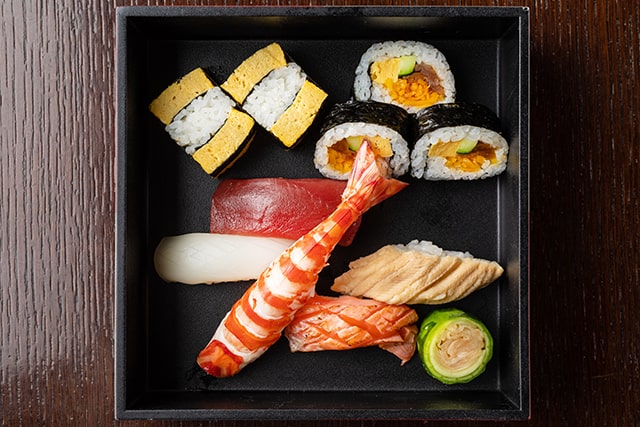 Daily Selection of Nigiri Sushi, Sushi Roll (small / large)
JPY 3,200 / JPY 4,500
Daily Selection of Sashimi (small/large)
JPY 4,500 / JPY 6,000
[Drinks]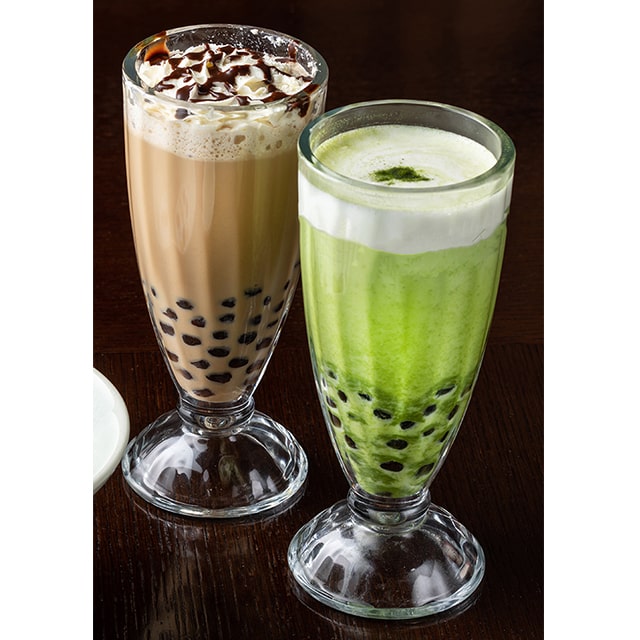 Matcha Tapioca ★NEW
JPY 1,300
Coffee Milk Tapioca ★NEW
JPY 1,500
* Please note that menu items and prices may change without prior notice.