Let UFO Burger Take You To The Outter Space This Summer
Beginning July 1, an iconic UFO Burger will be launched at The Oak Door steakhouse, just in time to celebrate the 50th anniversary of the first humans landing on the moon.
Designed to bring back the authentic American burger flavor, the UFO Burger takes you to "the final frontier" experience of a premium beef patty set within an impressive presentation. Celebrate the first Reiwa summer with something special, let The Oak Door take you to outer space, challenge yourself and indulge in this Instagrammable burger.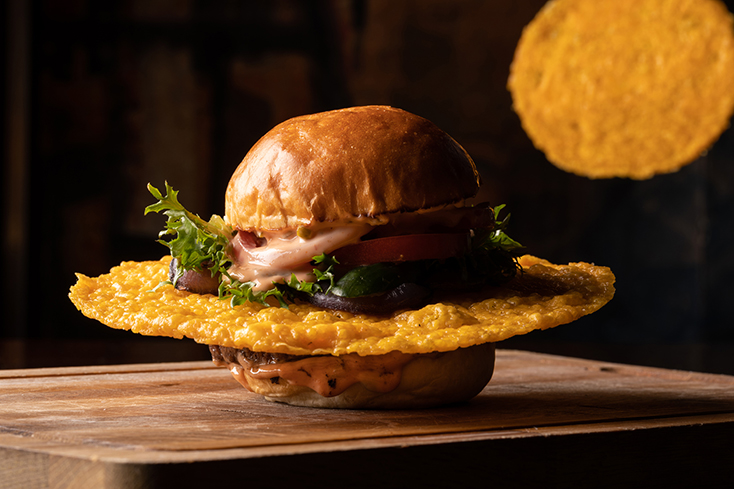 Period
July 1 – August 31
Lunch 11:30 a.m. – 2:30 p.m. (weekends and holidays until 3:00 p.m.)
Menu / Price (subject to tax and a service charge)
UFO Burger ★NEW
JPY 2,000

Filled with classic vegetables that are fresh and perfectly prepared including grilled onion, house made pickles, fresh fruit tomato and green curly lettuce, the UFO-like burger features a unique round design of teppan-grilled crispy cheddar cheese skirt that weights 100g and melted into The Oak Door signature charcoal-grilled 100% US prime beef patty.

Notes

Reservation is not necessary for this item.

Roppongi Gourmet Burger Grand Prix

The UFO Burger is presented to challenge the Roppongi Gourmet Burger Grand Prix 2019, an annual event in which diners get to evaluate via ballot their favorite participating burgers served at Roppongi Hills. Roppongi is believed to be the birthplace of the first hamburger in Japan.

Participating for the sixth year, Grand Hyatt Tokyo continues to challenge the Roppongi Gourmet Burger Grand Prix this year from Fiorentina and The Oak Door.


br>

【Special Menu】

UFO Burger (The Oak Door)

【Regular Menu】

【Burger Special】




THE OAK DOOR Steakhouse

Phone

Website

Hours

Lunch

11:30 a.m. - 2:30 p.m.
(weekends and national holidays 11:30 a.m. - 3:00 p.m.)

Afternoon

3:00 p.m. - 5:00 p.m.

Dinner

6:00 p.m. - 10:00 p.m.

Bar

11:30 a.m. - 12:30 a.m. (Last order for food 10:30 p.m.)