"Hyatt Loves Local" x "Ribbon Of Life" Collaboration to Support the Local Community and Spread Joy and Happiness Through Art
As part of the "Hyatt Loves Local" initiative, a global effort by Hyatt hotels to uplift and collaborate with small businesses and the local community that have been impacted by the COVID-19 pandemic, Grand Hyatt Tokyo announces its collaboration with local business, One Avenue Co., Ltd., a company leading the way in producing innovative installations and collaborating with a diverse range of artists from up-and-coming young artists to prestigious Japanese artists. Through the work of artists that continue to focus on their creation during the pandemic, the lobby of Grand Hyatt Tokyo is transformed into an art exhibit which aims to send the message of love and human connection.

With the temporary closure of many art galleries and postponement of exhibitions due to COVID-19, many artists have lost a physical space to exhibit their work. Through this project, Grand Hyatt Tokyo together with One Avenue Co., Ltd., aims to create a space where artists will still be able to exhibit their work. In turn, these artists will offer Hyatt guests and locals distinct experiences that foster an authentic connection to the local community.
Photo below: Yuji Amano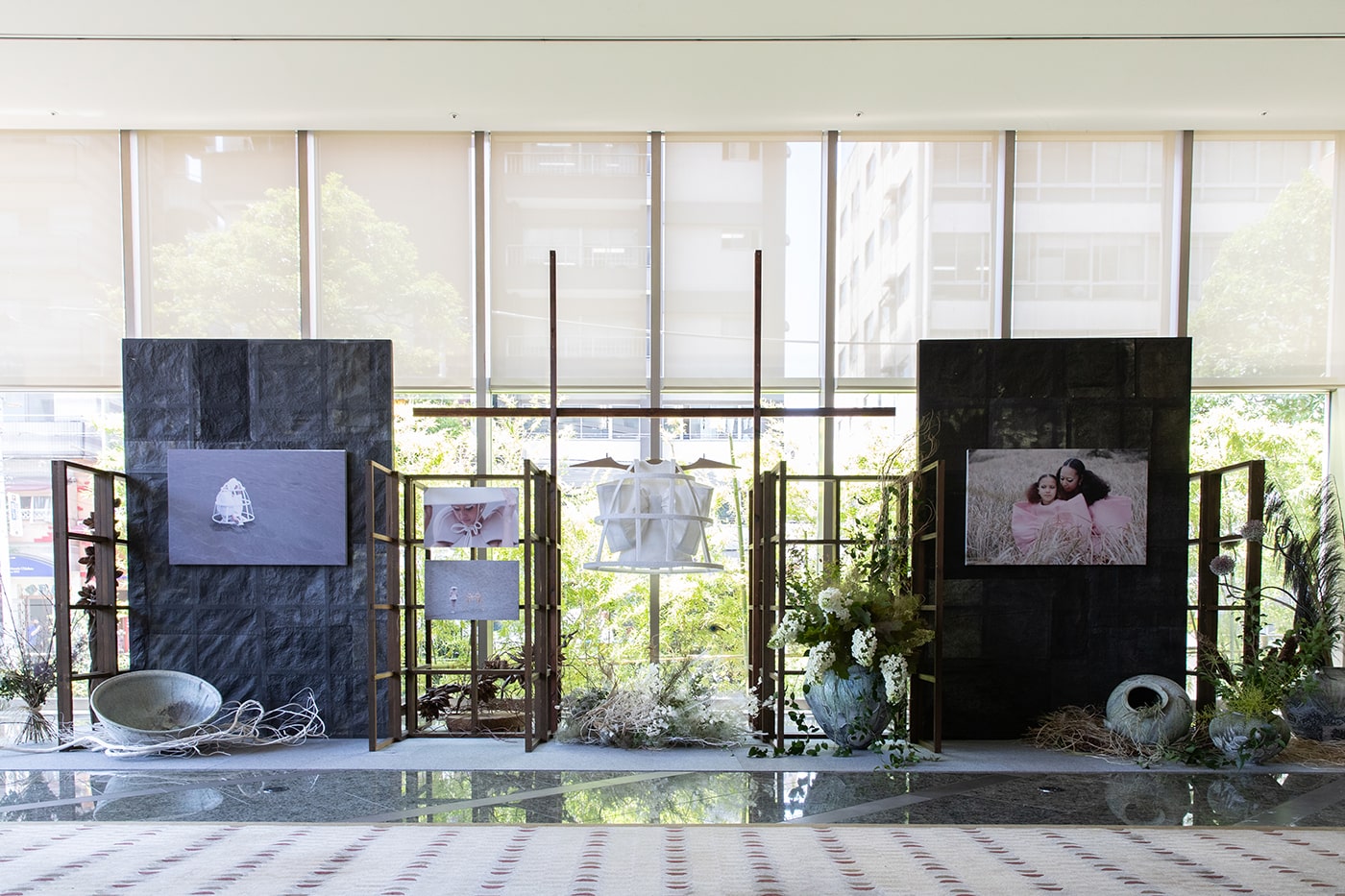 Ribbon of Life – Concept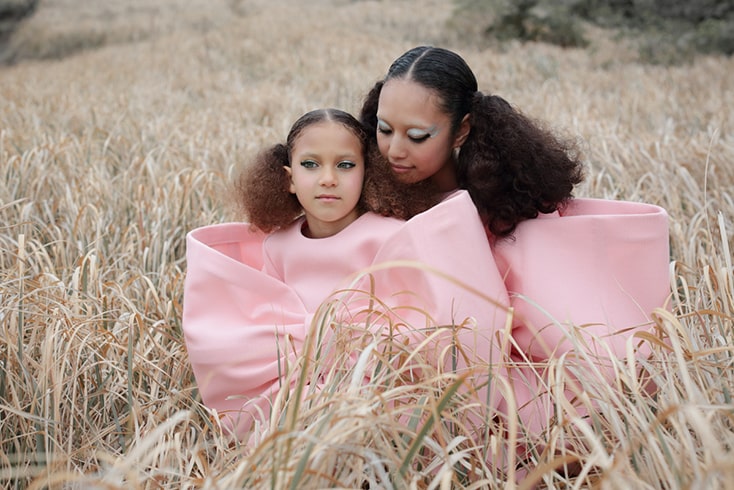 The exhibit offers a unique mix of fashion, art, and traditional Japanese ceramics.
The ribbon dress created by MOMOKO CHIJIMATSU is her message and symbol of eternal love that surrounds and wraps every soul. Seven-year-old Naomi, who made her model debut in the pink ribbon dress, lost her mother to cancer a few months before the shoot. Chasing the back of her mother, who was a former model, she voices her fight through this exhibition.
Osamu Yokonami, renowned photographer in the fashion magazine world has brought the vision of the ribbon dress to life, with his aesthetic eye and exquisite balance of fantasy and reality.
The work of Yui Tsujimura, a ceramist who continues to pursue "natural glaze" in his own style, has generously provided works which bring a nostalgic world into the dynamic lobby space of the Grand Hyatt Tokyo.
Model: NAOMI CARDOZO / NAGISA M&A
Exhibition Details
■ Exhibition Name: The Ribbon of Life
■ Exhibition Period: June 1, 2021 - 
 *Please note this may be temporarily suspended during the Olympic period.
■ Location: Grand Hyatt Tokyo Lobby Area (1st floor)
■ Artists: MOMOKO CHIJIMATSU, Yokonami Osamu, Yui Tsujimura
■ Produced by:One Avenue Co., Ltd.
 * For the inquiries about the exhibition, please contact at ag@oneavenue1.com
About One Avenue Co., Ltd.
One Avenue Co., Ltd (Chief Executive Officer: Alexander "Sandy" Guilfoile), is a creative marketing agency that specializes in traditional/ contemporary art and hospitality together, to create one-of-a-kind collaborative initiatives. Their portfolio includes nightlife hospitality group 1 OAK as well as luxury hotels in Tokyo.
Artist Profiles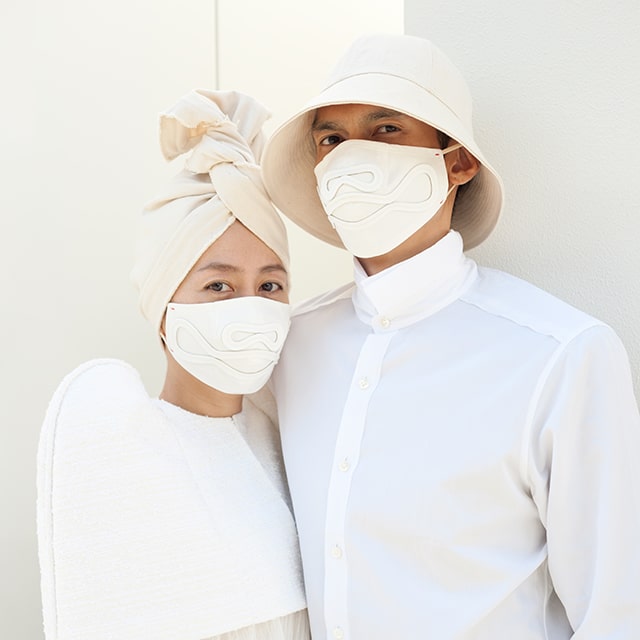 MOMOKO CHIJIMATSU
Conceptual fashion and art brand, Momoko Chijimatsu, was formed by husband and wife duo, Momoko Ikuta and Yuki Chijimatsu. Momoko and Yuki recognized that many people suffers as a result of the social issues that exist in the world. The aim of Momoko Chijimatsu is to get individuals involved in social issues that they are interested in, without pressuring or guilting them into engaging. Momoko and Yuki take pride in being artists, educators, and social activists. Their purpose is to create fashion pieces that can be displayed like art. They hope that by having people wear their pieces, they will feel joy from becoming a piece of art themselves. The items they produce are created by experimenting with architectural, agricultural, and other unique sustainable materials. At the University of Southern California, Momoko studied international relations and feminism and at the Shibaura Institute of Technology, Yuki studied architecture. Momoko Chijimatsu is the culmination of those three areas of study.
Photo: Katsuhiko Kimura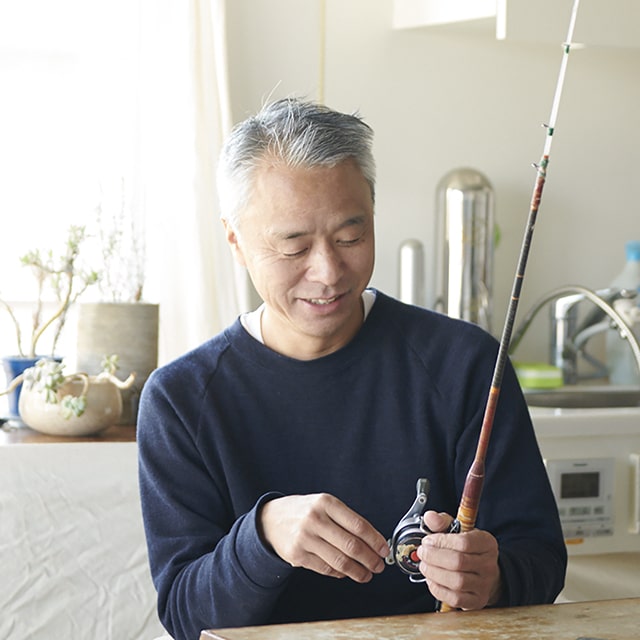 Yokonami Osamu
Born in Kyoto in 1967. Graduated from Osaka Visual Arts, and later joined the Photography Department of The Culture Publishing Bureau. He was a teacher under Mr. Ikka Nakako. He has a diverse portfolio ranging from domestic and foreign magazines, advertisements, artist photography, etc. Photo books include "Nankenai", "Sasayama", "Assembly" series, "100 Children", "1000 Children", "Mizugi", "PRIMAL", "KUMO / Cloud", etc.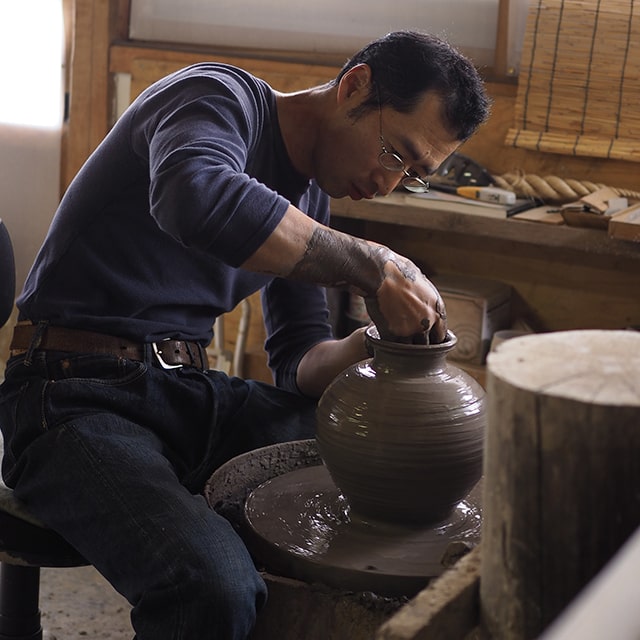 Yui Tsujimura
Born in 1975 in Nara Prefecture. Yui immediately started studying pottery-making with his father, Shiro Tsujimura, an internationally renowned ceramic artist. He built his own kiln in 2001, launching his successful career. Yui's work exhibits a style that is uniquely his own, endowed with a sensibility marked distinctly from the work of his father.