French Cosmetics Brand HOMMAGE Treatments and Products for Gentlemen
Located in Grand Hyatt Tokyo, Nagomi Spa and Fitness offers an exclusive range of gentlemen's treatments from HOMMAGE, a company originally from France that specializes in men's cosmetics, launching in Japan for the first time to offer bespoke experiences to complement lifestyles and transcend the everyday. HOMMAGE products are also now available for purchase at Nagomi, including a luxurious razor set for the modern-day gentleman.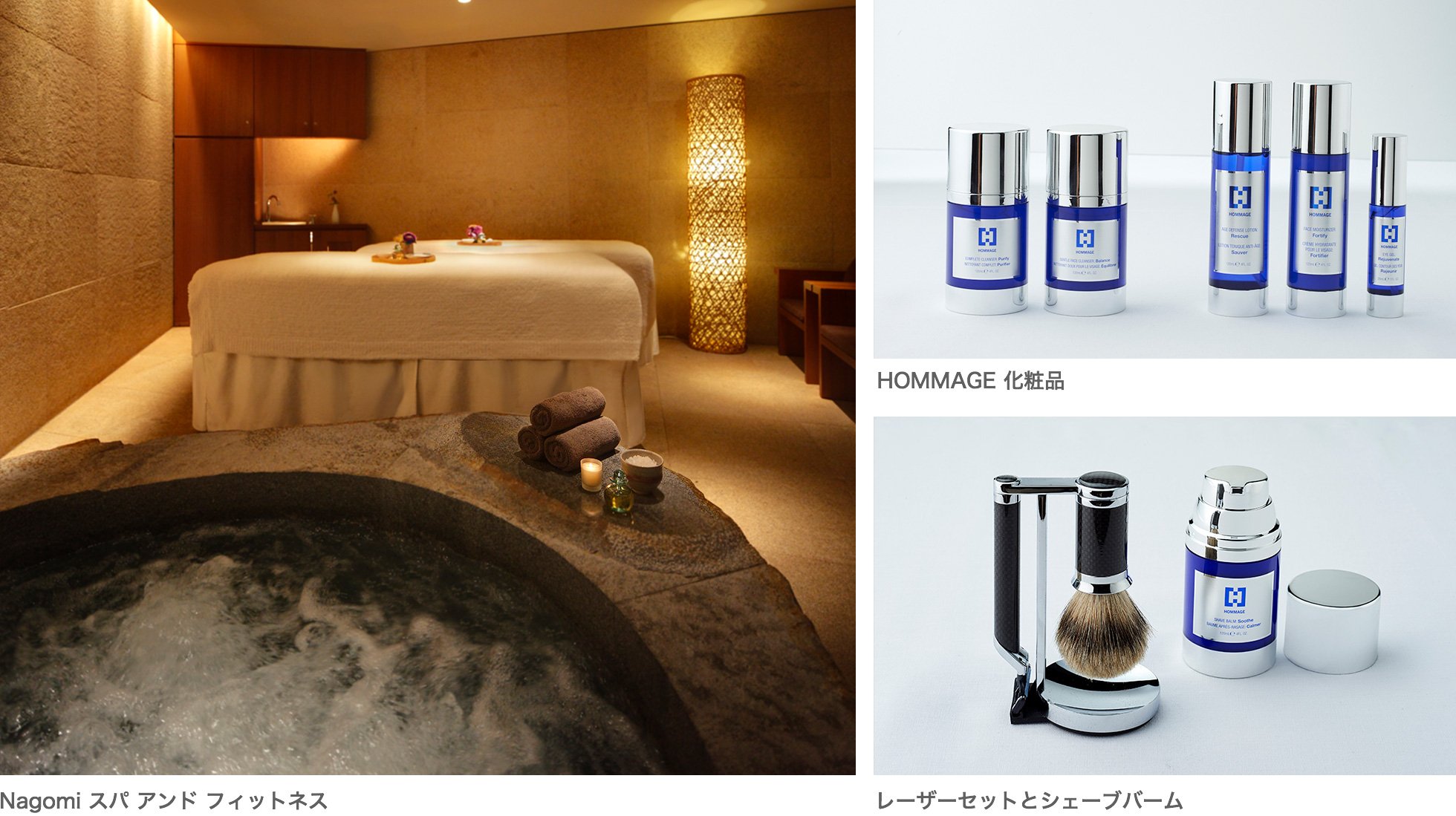 HOMMAGE Skincare and Grooming Products
We are pleased to introduce a line-up of gentlemen's skincare and grooming products. From body-cleansing gel and balancing lotion to eye gel and shaving products, there are a total of seven products available, specially made for gentlemen.
Products / Prices (Inc. tax)
Complete Cleanser JPY 7,150
A cleansing gel that can be used for both body and face to flush out impurities.
Gentle Face Cleanser JPY 8,250
A treatment cleansing gel that preserves the skin's natural moisture barrier that can be used for all skin types.
Age Defense Lotion JPY 11,000
Skin balancing lotion to tone and moisturize skin.
Face Moisturizer JPY 9,900
Apply on face and neck to hydrate and soothe skin.
Eye Gel JPY 11,000
Regenerates and fortifies skin for a refreshing finish while protecting and moisturizing.
Shave Oil JPY 7,150
Shave oil that can be used even for sensitive skin to be used on slightly moistened skin.
Shave Balm JPY 9,350
Instantly soothes and hydrates post shave for a calmed and balanced skin.

HOMMAGE Razor Products 
Befitting a refreshing start to the day, the sophisticated and elegant razor was designed by Wolfgang Joenssen to reflect new-world innovation and technology. The HOMMAGE shaving tools are precision-cast with zinc alloy, coated with copper, nickel and durable high-gloss chrome plating, then hand polished. Razors are available in six clean styles, including carbon fiber and leather, as well as a single razor for the traveling gentleman.
Products / Prices (Inc. tax)
CARBON FIBER Shaving set JPY 80,300
CHICAGO Shaving set JPY 68,200
SANTIAGO Shaving set JPY 68,200
SHANGHAI Shaving set JPY 68,200
STOCKHOLM Shaving set JPY 68,200
VERONA Single Razor JPY 32,450

HOMMAGE Treatment
Three spa menus utilizing HOMMAGE products focus on relieving stress and fatigue, specially designed for men.
Menu / Prices (Inc. tax / exc. service charge)
hommage age defense facial 60 minutes JPY 22,000
The ultimate in skin maintenance, a personalized facial to minimize pores, diminish fine lines
and brighten tired complexions. Hands and feet are cleansed, exfoliated and massaged,
while our signature face, neck and shoulder massage will induce deep relaxation.
tonic massage  60 minutes JPY 22,000 / 90 minutes JPY 28,500
Tension-relieving massage delivered with strong, concentrated pressure. Increases blood flow and circulation to ease stiffness from stress, sports and travel.
hommage face and body grooming ritual 90 minutes JPY 27,500
Be perfectly groomed from head-to-toe with this ultimate face & body grooming ritual by hommage, designed to pamper, soothe and indulge the most discerning gentleman. The treatment will commence with the relaxing hommage 'back facial', followed by a full body massage and completed with the hommage age defense mini-facial.
※Access to Nagomi Spa and Fitness is limited to hotel resident guests and by private membership.
※Spa treatments, fitness center and locker areas are limited to guests 18 years and older.
Nagomi Spa and Fitness
Tel 03-4333-8825
Hours Spa Facilities
*Operational hours are subject to change. Click here for the latest operational hours.