"Printemps à Paris" Parisian Spring Semi-Buffet Dinner
To celebrate the arrival of spring, The French Kitchen will offer a seasonal semi-buffet dinner highlighting classic French bistro cuisine. Enjoy a selection of tender meat and fresh seafood dishes such as beef Chateaubriand, beef bourguignon, niçoise salad, seafood gratin and truffled French fries to your heart's content. Diners may also order an unlimited amount of fresh sustainable seafood that will be presented on ice and served at the table including Atlantic lobster, marinated scallops and tiger shrimp. End on a sweet note with our Parisienne dessert buffet that changes weekly, featuring classics such as crème brulee, mille-feuille and Paris-brest. As the weather gets warmer, enjoy dinner on the breezy open-air terrace of The French Kitchen.
*The photo below is an image. Please note that the actual presentation may differ.
*For your safety and peace of mind, The French Kitchen buffet is being offered with precautionary measures in place. Click here for more details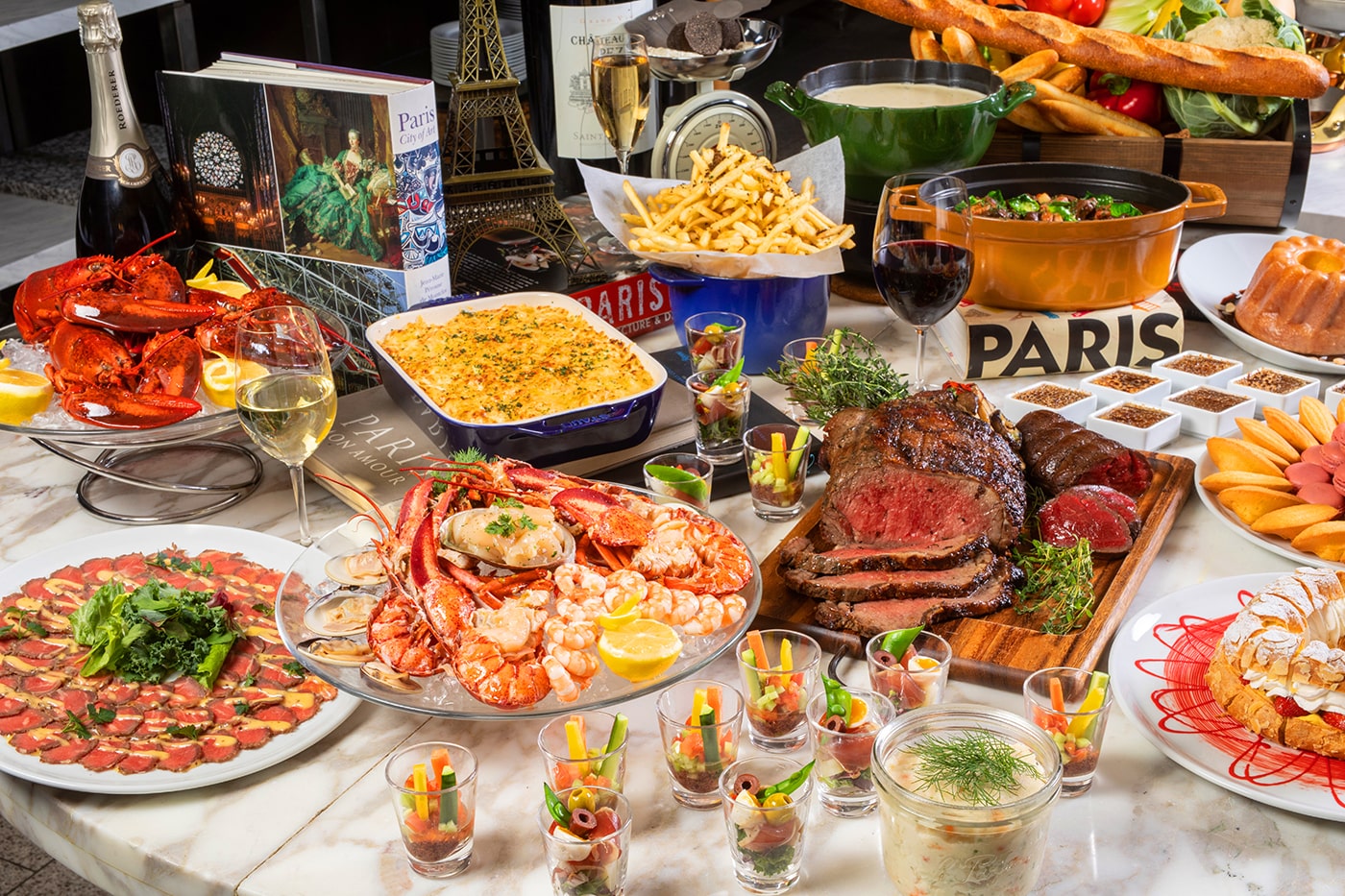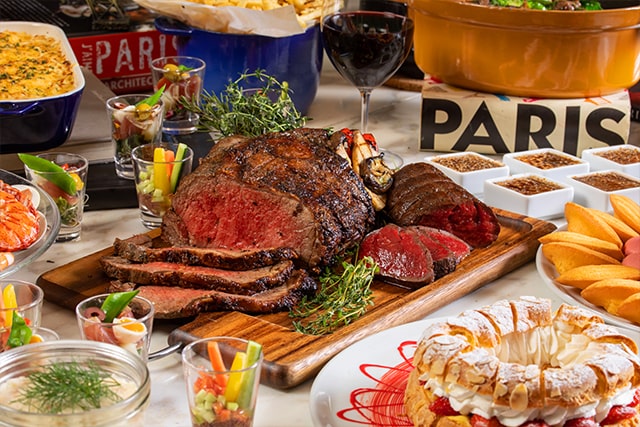 Period
March 1, 2021 – May 16, 2021
Dinner
*Operational hours are subject to change. Click here for the latest operational hours.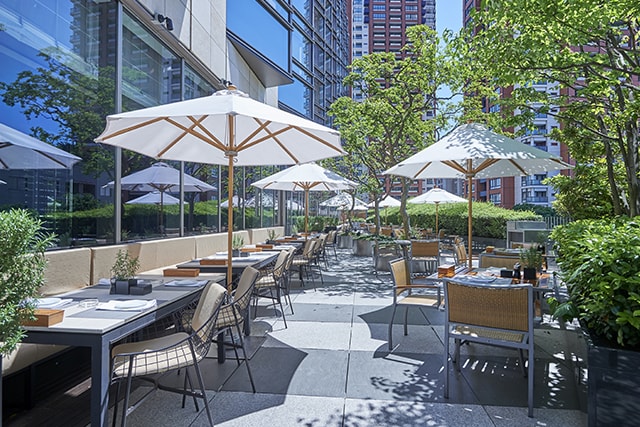 Menu / Price (subject to tax and a service charge)
Printemps à Paris
French Semi-Buffet Dinner
JPY 8,800 per person

Online Special Offer
[3/1-19] Weekday only special plan
JPY 8,800 → JPY 7,700 (12% Off)
Choice of one drink including sparkling wine
JPY 10,000 → JPY 8,800 (12% Off)
[Menu Details]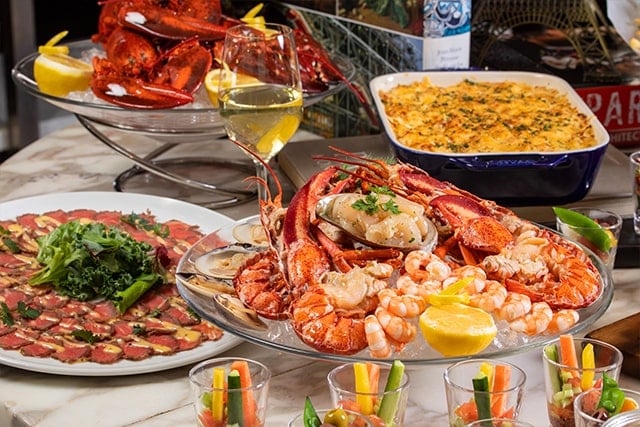 Unlimited – served at your table
Seafood on ice
*All seafood are sustainably-sourced
Atlantic lobster, marinated scallops, tiger shrimp
Remoulade, cocktail sauce, vinegar, lemon
Chef's classics
Chateaubriand, Cognac sauce
Truffled French fries
Rôtisserie
Sirloin – au poivre, sauce bearnaise
Pommes Lyonnaise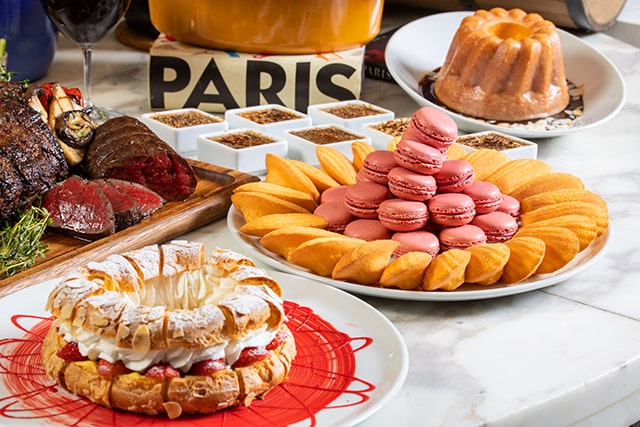 Buffet station
Tuna niçoise
Mackerel rillettes
Jambon persille
Crudite, tapenade
Hot vichysoise
Seafood gratin
Beef Bouriginion
Dessert
Weekly Parisienne dessert buffet

Paris-brest
Crème brûlée
Mille-feuille
About Hyatt's Goals to Tackle Environmental Challenges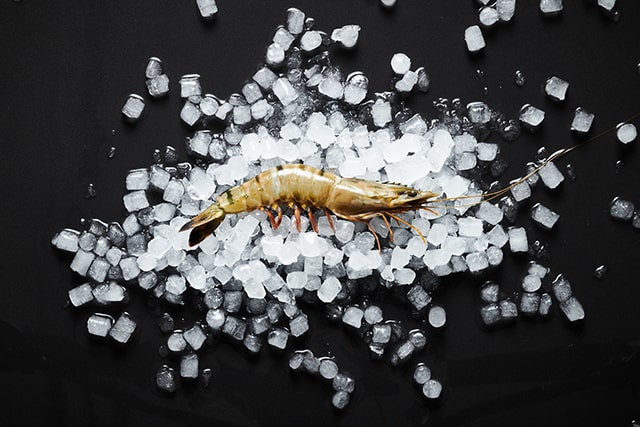 In 2014, Hyatt launched its 2020 Vision to tackle the most pressing global environmental issues we can influence. It is based around goals for reducing energy and water consumption and greenhouse gas (GHG) emissions at our hotels, recycling and waste reduction, supply chain sustainability, and building efficiency – challenges that require collaboration with our industry, other businesses, and thought leaders. Our food and beverage philosophy, Food. Thoughtfully Sourced. Carefully Served. guides the way we design menus and purchase ingredients so that we can better serve our guests, our communities and our planet. We strive to offer healthy choices to our guests, work with local suppliers, incorporate animal welfare considerations, support options like organic or antibiotic-free, and identify options with a low environmental impact. Hyatt was one of the first global hospitality companies to launch a holistic global sustainable seafood strategy and has also been working with World Wildlife Fund (WWF) since 2012.
Regarding Precautionary Measures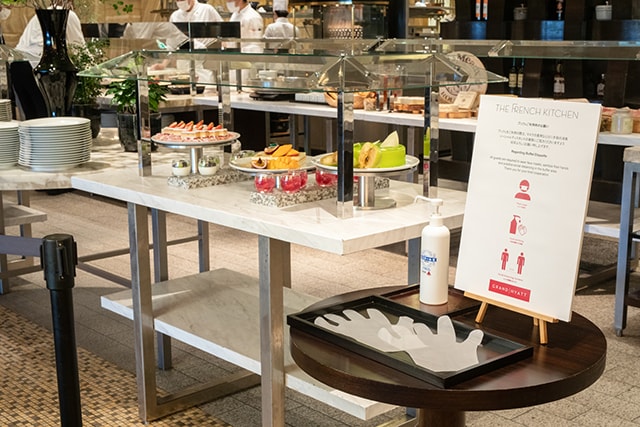 At The French Kitchen, we are taking the following precautionary measures for your safety and peace of mind.

We appreciate your understanding and cooperation.
We kindly request that all customers disinfect their hands at the buffet, and use masks and gloves.
We have installed sneeze guards at the buffet.
Tongs are replaced every 15 minutes
(certain foods will be served at the table.)
To secure a social distance between guests, the buffet line will move in one direction.
* Click here for Grand Hyatt Tokyo Precautionary Measures
The French Kitchen All-Day Dining
Phone

Website

Hours

Breakfast

6:30 a.m. - 10:30 a.m.

Lunch

11:30 a.m. - 2:30 p.m.
(weekends and national holidays 11:30 a.m. - 3:00 p.m.)

Afternoon

2:30 p.m. - 5:00 p.m.
(weekends and national holidays 3:00 p.m. - 5:00 p.m.)

Dinner

6:00 p.m. - 9:30 p.m.

Bar

11:00 a.m. - 9:30 p.m.

*Hours of operation have changed. Please click here for more info