"Lobster Festival" Sustainable Seafood Semi-Buffet Dinner
With sustainability in mind, the chefs at The French Kitchen have carefully selected a variety of sustainably-sourced seafood for the "Lobster Festival" semi-buffet dinner. Enjoy exquisite gourmet dishes such as seafood paella, rotisserie chicken as well as fresh Atlantic lobster that will be served at the table. Indulge a little more by selecting the premium plan that includes unlimited Atlantic lobster or the premium plus plan that also includes free-flowing Champagne. A dessert buffet featuring seasonal sweets made by our award-winning pastry chefs will be the perfect way to end the meal.

*The photo below is an image. Please note that the actual presentation may differ.
*For your safety and peace of mind, The French Kitchen buffet is being offered with precautionary measures in place.

[Dine Local: 3X Points Special Offer]
Earn 3X points on dine-in or takeout at hotel restaurants through February 10, 2022 when you're not staying the night.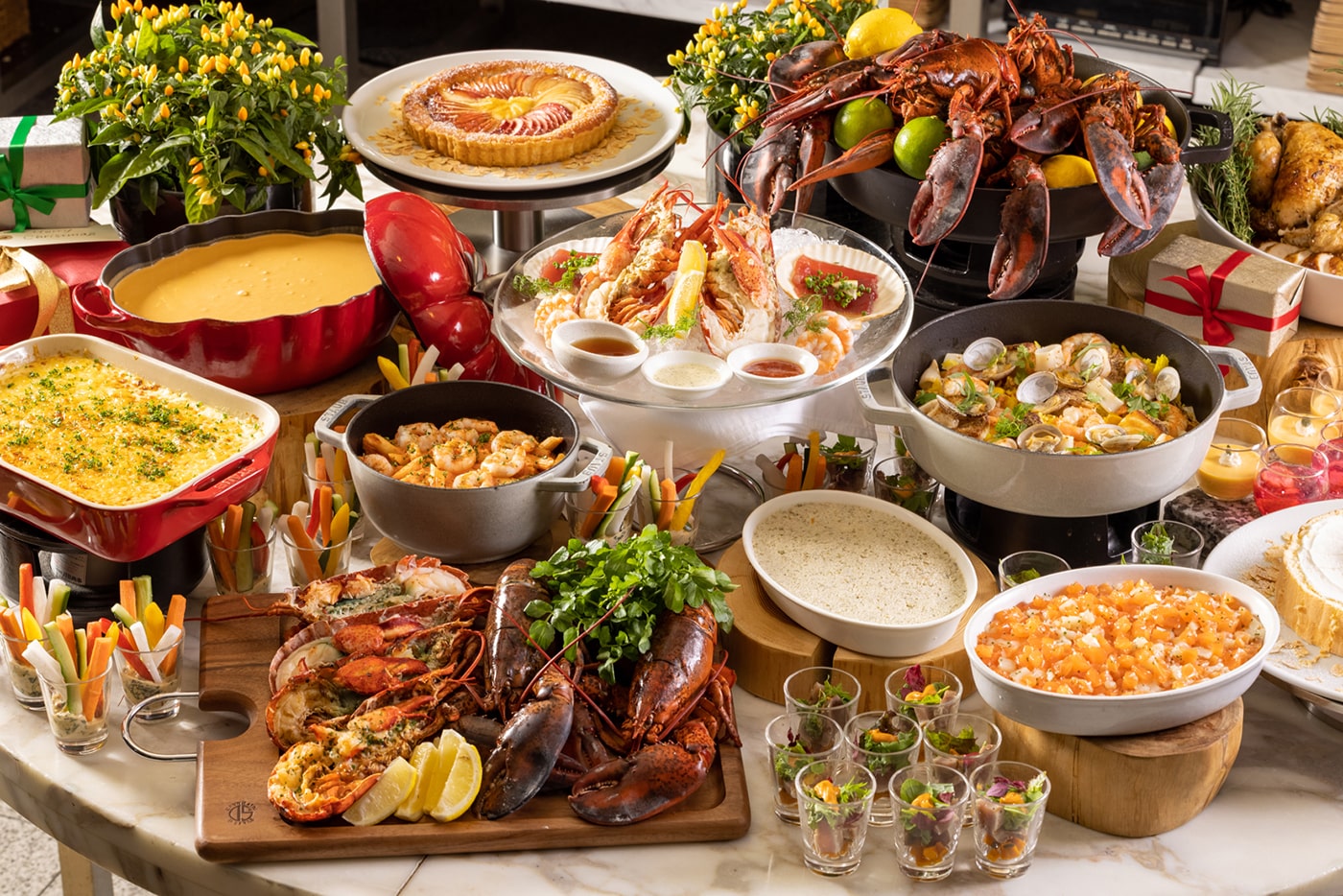 Period
October 1, 2021 – February 28, 2022
Dinner (*Excludes Christmas and New Year holidays)
*Operational hours are subject to change. Click here for the latest operational hours.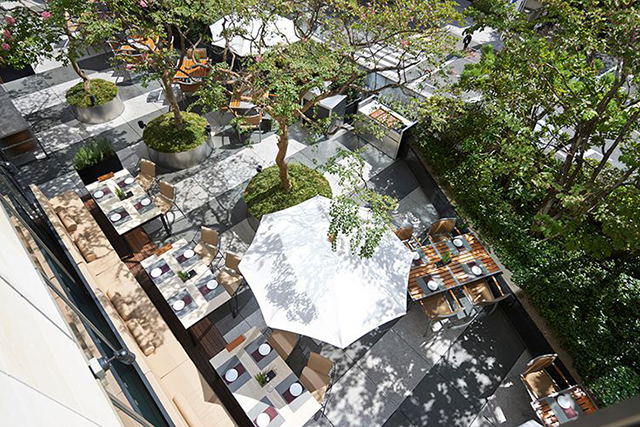 Menu / Price (Inc. tax / exc. service charge)
Lobster Festival
Food Only:
JPY 9,680 per person

Food & free-flowing champagne:
JPY 12,530 per person

Food & All-you-can-taste lobster:
JPY 15,680 per person

Food & All-you-can-taste lobster & free-flowing champagne:
JPY 18,530 per person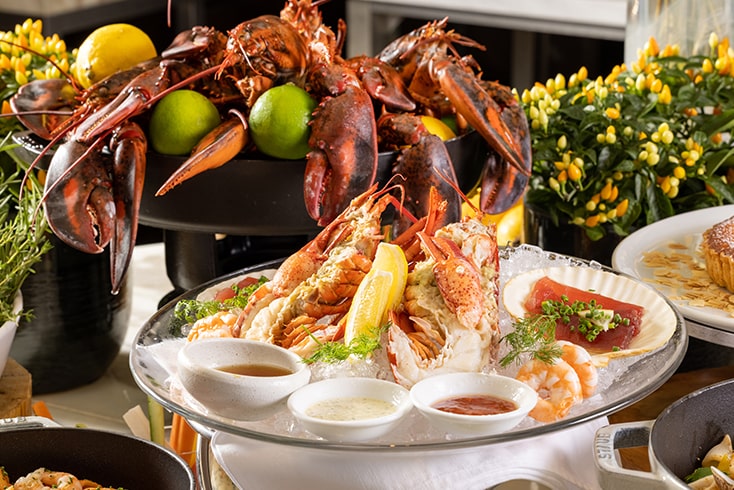 [Menu]
※Menu may vary depending on the season.
Served at your table


Atlantic lobster (half), cocktail shrimp and marinated big eye tuna on ice
(Remoulade, cocktail sauce, vinegar, lemon)
Atlantic lobster (half),
Thermidor, steamed or grilled
(Clarified butter, garlic herb butter and lemon)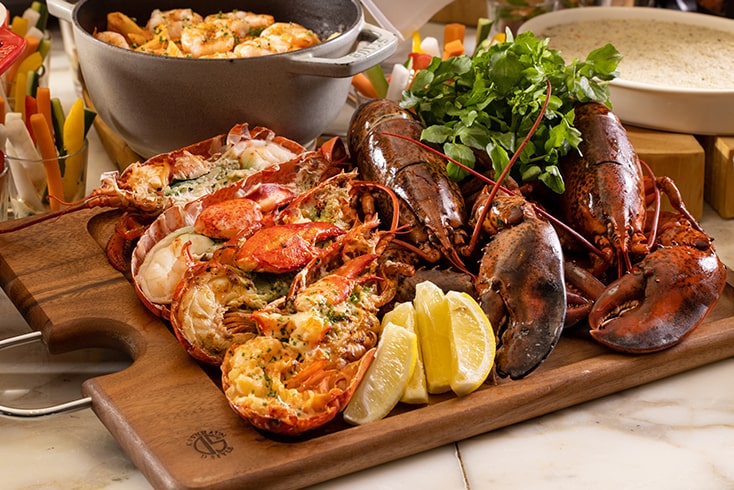 Buffet station – all you can taste

[Appetizer]
Scallop and smoked salmon tartar
Spicy lobster and spinach dip, crudité
Seared tuna and pumpkin salad
Mackerel brandade
[Soup]
Pumpkin bisque with tiger shrimp
[Main]
Seafood potato gratin
Grilled tiger shrimp, penne pasta
Crab stuffed tiger shrimp
Seafood paella
Rotisserie chicken, braised pumpkin, walnuts, chicken jus
[Dessert]
Seasonal dessert buffet

[January] Seasonal desserts
Regarding Precautionary Measures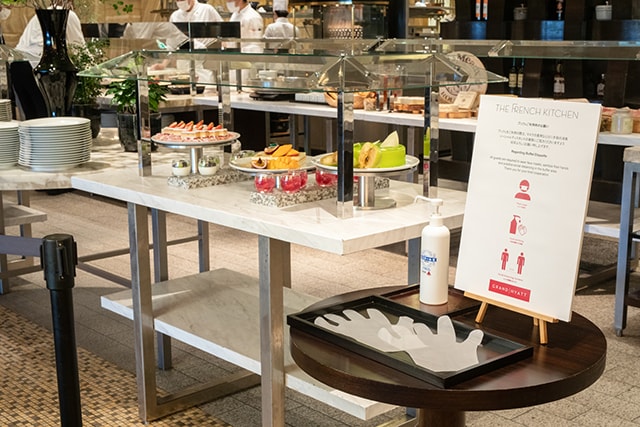 At The French Kitchen, we are taking the following precautionary measures for your safety and peace of mind.

We appreciate your understanding and cooperation.
We kindly request that all customers disinfect their hands at the buffet, and use masks and gloves.
We have installed sneeze guards at the buffet.
Tongs are replaced every 15 minutes
(certain foods will be served at the table.)
To secure a social distance between guests, the buffet line will move in one direction.
* Click here for Grand Hyatt Tokyo Precautionary Measures
The French Kitchen All-Day Dining
Phone

Website

Hours

Breakfast

6:30 a.m. - 10:30 a.m.

Lunch

11:30 a.m. - 2:30 p.m.
(weekends and national holidays 11:30 a.m. - 3:00 p.m.)

Afternoon

2:30 p.m. - 5:00 p.m.
(weekends and national holidays 3:00 p.m. - 5:00 p.m.)

Dinner

6:00 p.m. - 9:30 p.m.

Bar

11:00 a.m. - 9:30 p.m.

*Hours of operation have changed. Please click here for more info