"Terra" Sweets Assortment for Takeout
The award-winning pastry chefs at Fiorentina Pastry Boutique have created a special sweets assortment box inspired by the SDGs, named "Terra," meaning "earth" in Italian. Limited to just 50 boxes, the assortment features nine different delectable bites incorporating sustainable ingredients and a vibrant mousse cake showcasing the SDG colors.
Enjoy sweets such as pistachio nougat cake, matcha tartlet and matcha-flavored almond chocolates, all of which are perfect to take on spring outings.
*Please note that photos are an image and there may be individual differences in the color and appearance.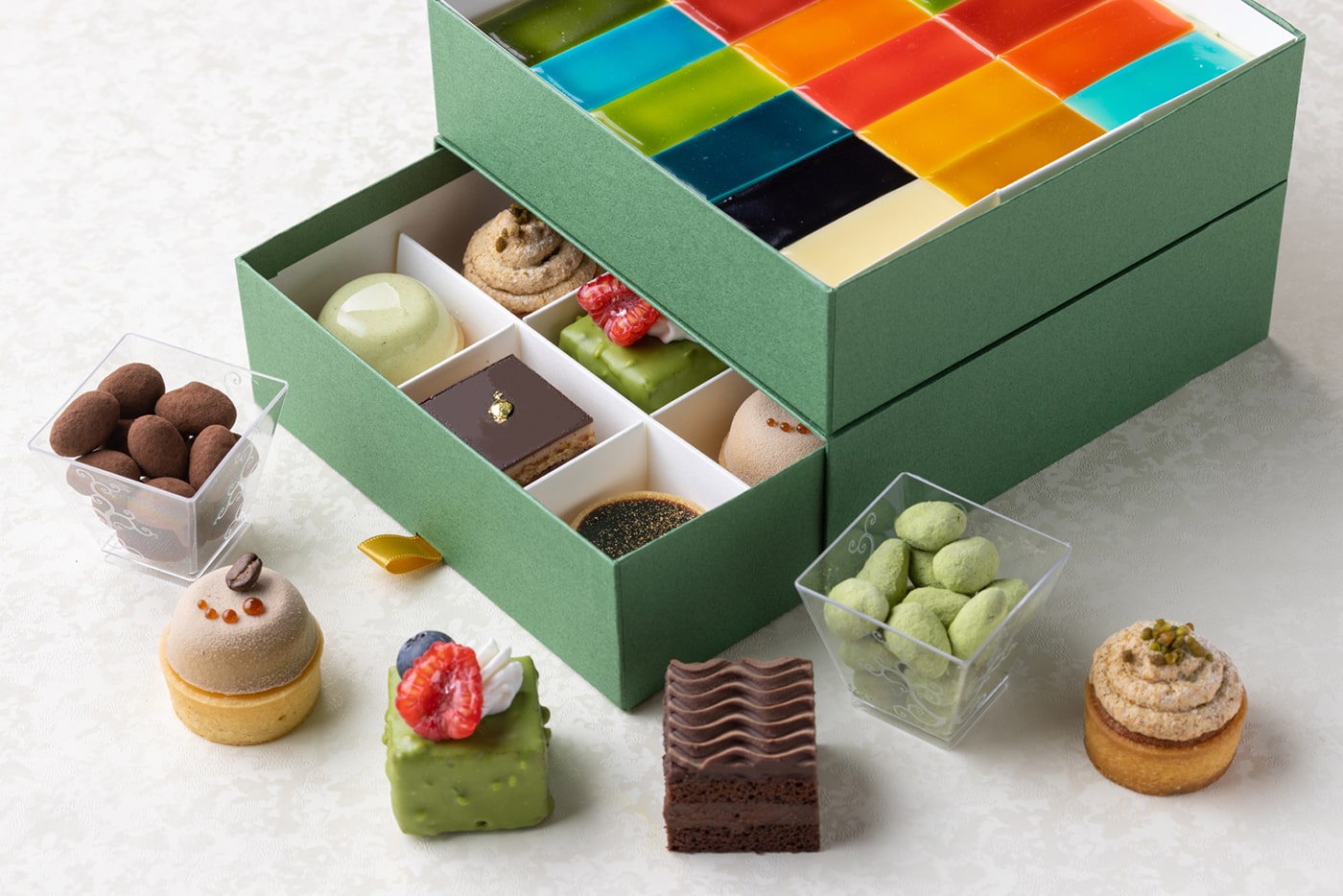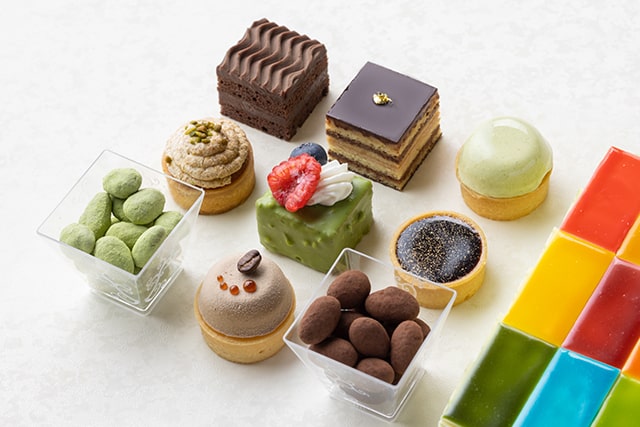 Period
April 18, 2022 – Until item is out of stock
*Limited to 50 boxes, early reservations are recommended. 
Pre-order (for Pick-up)
Please reserve this item in advance by the following methods.
Reservations must be made at least 3 days in advance, before 10:00 a.m.
A 100% cancellation fee will apply from 3 days prior to the pick-up date.
■Online reservations
■Reservations by telephone
Fiorentina Pastry Boutique: 03-4333-8713
(10:00 a.m. – 8:00 p.m.)
■Reservations at the shop
Fiorentina Pastry Boutique (1st floor)
(10:00 a.m. – 8:00 p.m.)
Pick-up Location & Hours
Fiorentina Pastry Boutique (1st Floor) *Delivery is not available
10:00 a.m. – 8:00 p.m.
*Operational hours are subject to change. Click here for the latest operational hours.
Item / Price (Inc. tax)
"Terra" Sweets Assortment
JPY 12,000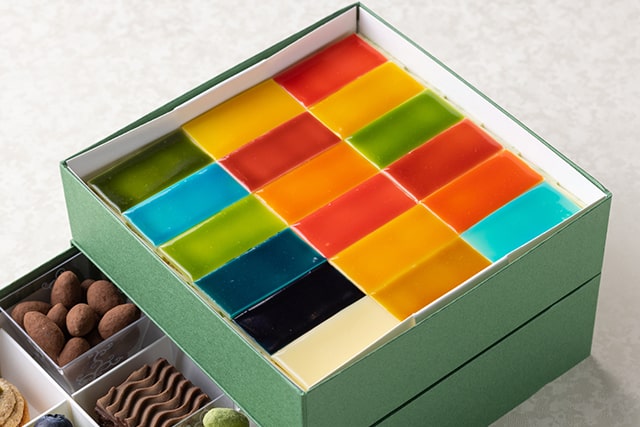 Upper Tier
Chocolate mousse *1
Chocolate banana brownie *1, *3
Rainforest coffee mousse *2
3 kinds of fruit mousse *4
Pistachio mousse
Matcha mousse
Matcha cake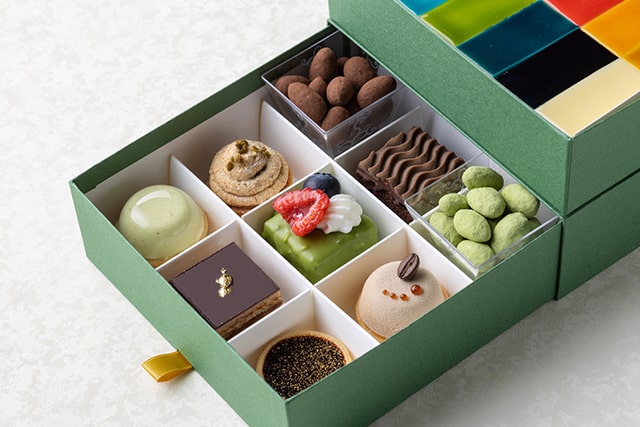 Bottom Tier
Tartlet chocolate *1
Coffee tartlet *2
Almond chocolate *1
Opéra *1, *2
Marquise *1
Pistachio nougat cake
Tartlet pistachio
Matcha almond chocolate
Matcha tartlet
*1 Made with Wholefruit chocolate
*2 Made with Rainforest Alliance certified coffee
*3 Made with irregular bananas
*4 Made with irregular fruits (the type of fruit depends on availability)
About the Rainforest Alliance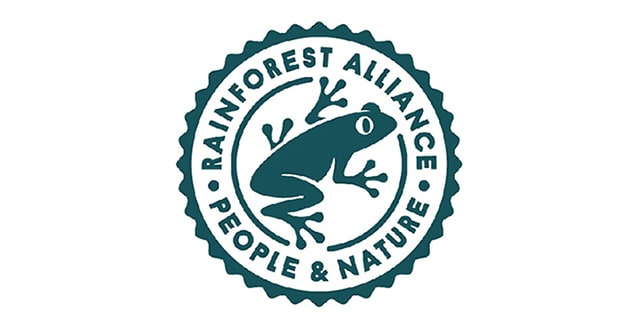 The Rainforest Alliance is an international non-profit organization working at the intersection of business, agriculture, and forests to make responsible business the new normal. They are building an alliance to protect forests, improve the livelihoods of farmers and forest communities, promote their human rights, and help them mitigate and adapt to the climate crisis.
Official website: www.rainforest-alliance.org/about/
SDGs: Sustainable Development Goals at Grand Hyatt Tokyo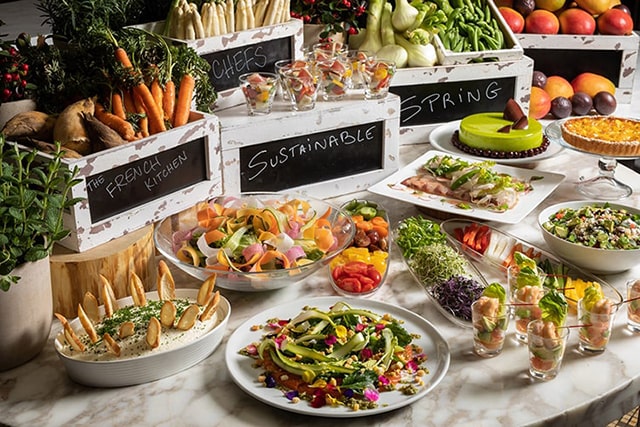 Grand Hyatt Tokyo actively works to support the SDGs with initiatives such as energy conservation, environmental protection, local production for local consumption, enhancing the work environment for employees, supporting the community / providing disaster-resistant facilities and contributing to local non-profit organizations.