Experience moments of more with our dramatically transformed event spaces
Grand Hyatt Tokyo, the dynamic luxury hotel that provides an abundance of options and an endless multicultural backdrop, underwent a significant renovation of its 3rd floor event spaces.
Following the renovations of the 2nd and 4th floors completed in fall of 2016, Grand Hyatt Tokyo began the third phase by transforming the 3rd floor spaces, including Tarragon, the foyer and the Grand Ballroom, into unique, multifunctional and dynamic venues that exude a stylish and warm residential ambience. Grand Hyatt Tokyo is the first hotel in Japan to install state-of-the-art lighting made with 2,400 pendant lights and large LED screens with high visibility, custom-designed specifically for the hotel.
The hotel offers an even wider range of AV options than ever before and events will deliver an experience that surpasses even the wildest imagination of its guests.
Grand Ballroom
The 1,000sq m (10,764sq ft) Grand Ballroom features 2,400 custom-made pendant LED lights, a first for hotels in Japan. The lights can be specially programmed to reproduce logos or special designs in addition to their 20 basic lighting patterns that make events even more dynamic. In addition, the three screens, including the 317-inch LED screen, can clearly display images with full HD specifications using advanced lighting and produce special effects with projection mapping. The flexible space can also be divided into two separate areas (East and West) for medium-sized events.
For details, please click here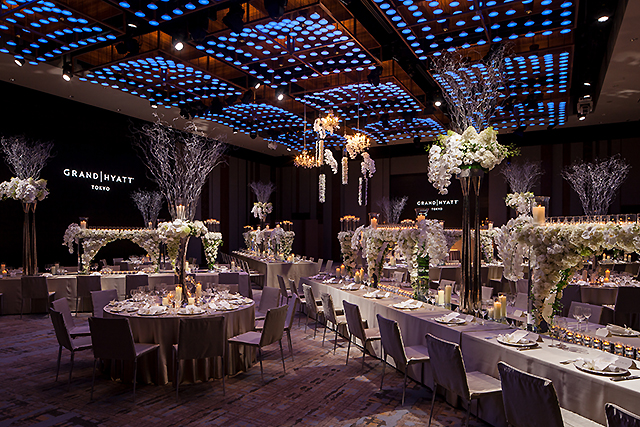 Tarragon
Tarragon is a multi-functional reception space that offers plenty of natural ambient lighting through its floor-to-ceiling windows. Designed to be cohesive with the residential design of the 2nd floor, Tarragon is a warm and stylish space exuding a relaxing atmosphere. In addition to new LED ceiling lights, a state-of-the-art 192-inch LED screen with technology to prevent day-time glare was installed. The increased brightness of the display makes it perfectly suited for presentations.
For details, please click here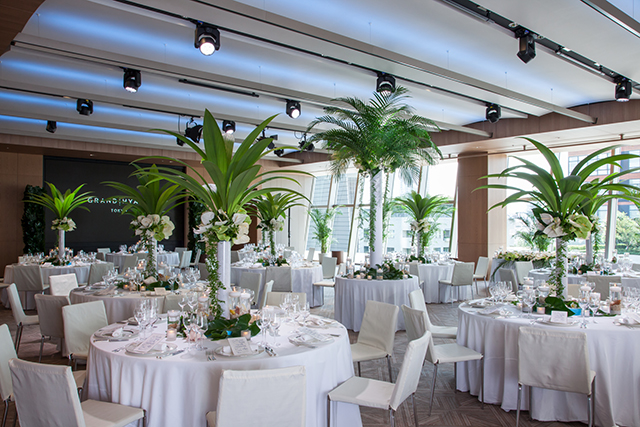 Foyer
Adjacent to the Grand Ballroom, the foyer area unites the 3rd floor in a cohesive and stylish residential design. Grand Hyatt Tokyo is one of the few hotels in Tokyo that can accommodate vehicles in the event spaces so to add to this, the doors leading to the foyer were expanded to now make it possible to showcase up to six vehicles in the this versatile space as well. Featuring natural materials such as beautiful sycamore wood along with a variety of textures, the warm ambience will make it ideal for enjoying drinks from the bar or just relaxing during meeting breaks or cocktail hours.